No holds barred
The trend of having a custom-made bar in homes is fast catching up with city residents, finds out Angad B. Sodhi
Walk into a newly constructed house in Chandigarh and the people showing you around will lead you to the drawing room, living room, dining room and the bar… wait a minute, the bar? That's right the bar! A trend, that some may feel has been around for a while, is catching on like wildfire among the current generation—to incorporate a separate bar area in the house.




BAR BAR DEKHO: Col A.P.S. Gill entertains a guest in his bar. — Photos by writer
Mad about shopping?
Ever wondered what is it that makes most women's conversation, in fact lives, centre around shopping? Anandita Gupta talks to some shopaholics
Shopping—a serenely satisfying act for every feminine soul in the cosmos. A therapeutic hobby, an investment that guarantees good photo opportunities and even, for most women, a sacred way of life. But then, there are those—mostly men (read fathers, husbands, brothers and boyfriends) for whom their woman's indulgence in shopping seems an incurable disease, a misuse of money or even a destructive cycle, too vicious too be broken. In case, we've left you wondering whether to embrace this delightful indulgence or dismiss it as a forbidden sin, lets delve deep into the shopping bags of the city's shopaholics to let you decide.
Craft craze
"The sheer pleasure associated with shopping, finds takers in all women, everywhere, anywhere. It's like a glue that binds us all," laughs Nimisha Gupta, Manager INIFD. An alumnus of prestigious institutes like Lady Irwin College and NIFT, Delhi, this young lady gets a high by shopping anything that's traditional, colourful, intricate. "Silk smooth textiles and exotic embroideries have always fascinated me. So I'm spending all my leisure time at Fabindia, Khadi Gram Udyaog, Chandigarh and the emporiums at Baba Kharag Singh Marg, Delhi."


Photo by Pradeep Tewari
HOT WHEELS
Rough ride for motorsport
Sukant Deepak
One can almost hear the heart beat at breakneck speed. The lazy November afternoon is all set for a rude shock and would soon rise from its lumber. Exhaust fumes would rule the air after the event concludes.
JINGLE IMPACT ON RADIO
Tuning-In with Hardeep S. Chandpuri
In simple words a radio jingle is a slogan, set to an engaging melody, mainly broadcast on radio and sometimes on television commercials. An effective jingle is constructed to stay in one's memory (colloquially, 'ringing a bell'). People often nostalgically remember jingle even decades later even after the advertised brand has ceased to exist. Nowadays, the most common form of a jingle is a radio station's on-air musical or spoken station identity. And guys, let me remind, you that the first known jingle was produced for Wheaties in the year 1926.


Casino Royale fails to bond
Rajiv Kaplish
It is more realistic, darker and grittier than the earlier James Bond movies. It is a tragic love story", claimed Eva Green, lead actress of "Casino Royale" (Fun Republic, Piccadily) in an interview. That's the tragedy, Eva, of the latest Bond flick. Who would like the secret service agent 007 to be a romantic lover? Or, a loner who does not get involved with people? Guns, girls, glamour — only a Bond who has restricted his vocabulary to the three words can be the darling of the audiences. Sadly, Daniel Craig, the new James Bond, shows his expertise only in inanities. Whether he is wooing Eva or engaging in a high-stake poker game in Casino Royale to outwit a banker to most of the global terrorists, Le Chiffre (Mads Mikkelsen), Craig lets his imagination run riot. A womaniser, not a tragic lover, will jell well with the viewers.



A scene from Casino Royale
Motherhood by choice
I have a daughter and I always wanted one child. But all my friends and family feel that I am selfish. Is it really selfish to have just one child? They think that one must always try and have two kids. Also my husband's family keeps making remarks about my not being a responsible mother and daughter-in-law. I don't know how to tell them the truth about the way I feel. I value my freedom and the way I live and I am not prepared to sacrifice these to make others happy. How do I deal with this issue, it is beginning to get to me.
She has designs on stars
Anandita Gupta
It's a starless night. Not dark though, as a full moon shines bright — a diamond pendent on the bare-necked darkness. The quiet of the hours seems still, heavy. And then, as the night leisurely tick-tocks into midnight, lights come on. Stardust pours into Mumbai's Film City. Amitabh Bachchan, Hema Malini, Shah Rukh Khan and Preity Zinta, arrive and prepare to celebrate the Punjabi harvest festival of Lohri for celluloid in fancy traditional attires. The glittering set, which bears a rustic setting replete with reticent cows mooing about, suddenly pulsates with vigour. Cameras roll and Javed Akthar's playful, staunch Punjabi words resound—"O aa gayi lohri ve, bana le jori ve….."





Set designer Neetu Grover, the Punjabi kudi who made her mark in Bollywood. — Photo by Manoj Mahajan
Matka Chowk
Lady in Town
I had not fully realized the advantages of being a 'Lady' till I arrived in Chandigarh after years of living abroad. True – I have memories of 'Ladies Special' buses and trams in Calcutta and men getting up to free the 'Ladies Seats' in public vehicles. But, after coming to Chandiagrh, I found many new directions in which my ladyhood came quite handy.

Fun With Fashion
Of threads and colours
Anandita Gupta
Just when we thought November wasn't getting cold enough, a surprising change crept in. The air around us got chillier, heavier—exhaling the subtle scents and whiffs of winter. Little wonder, you've been left wondering what to wear for those chilly social-do evenings. Perhaps, you wouldn't have been in this dress-dilemma, if you'd known Vandana Worrell.

Vandana Worrell

Dancing diamonds
Buoyed by its success in the city beautiful, Tanishq the jewellery brand of Tatas is soon coming up with a new boutique for the city to mark the completion of nine years in the city. The city is way up in jewellery tastes as it is ranked among the top ten cities in the country for the highest sales of jewellery recorded here.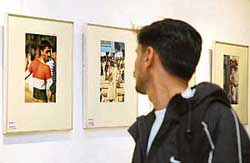 A mania called cricket
Cricket is my religion, reads the bold statement on the back of a young fan, captured on camera wearing nothing but the painted shades of the tricolour. This one statement sets the mood for the 'Cricketmania!' exhibition held at the Alliance Française. The passion and love felt for this sport, it seems, is the one factor that transcends all divisions and boundaries in our nation and binds us together as nothing else can. This exhibition is concrete proof of the fact that cricket is not just a sport; it is a sanctimonious activity, which can bring our entire nation to a standstill.


Thai carving
Gayatri Rajwade
It is the mother of all knives. Beautifully lacquered, delicate and yes small but what a peeler it is! There is a famous saying in Thai that goes: when you eat, you do not just eat with your mouth, your tongue and your stomach, you also eat with your eyes and that is precisely what this deceptively modest knife is doing.




KITCHEN KATHA: Women try out vegetable carving at the Taj, Chandigarh. — Photo by Vinay Malik
A Rocking Friday
Gayatri Rajwade
Muscled bouncer standing nonchalantly by the entrance, 'I love you dear Athena' scratched in the lift, voluble film songs jangling with psychedelic lights and bopping youngsters having the time of their lives—we have arrived at the 'Friday Rocks' party at Athena, Fun Republic, organised by Popcorn Event Management Group.
---