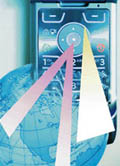 Networking professionals need of the hour
While the situation threatens the competitiveness of Indian firms in the global economy, it also presents the country's technical students a lucrative career opportunity, writes Ranajoy Punja
India's integration into the global economy is bringing forth new challenges for its organisations. Indian organisations are increasingly relying on their "networks" as a critical business tool to help them compete and connect with the global economy. India will have a shortfall of nearly 1.37 lakh skilled networking professionals by 2009, according to a recent study.


Courtesy at work
I.M. Soni
A business consultant says, "A majority of troubles in an organisation arise because people don't get along with one another." This leads to non-cooperation, friction, waste of time and energy, back-stalling. Eventually, it leads to inefficiency and a bad name for the organisation. At every level in an office, factory and establishment, the same problems raise their head. Can different people work harmoniously if they do not see eye to eye with each other?


Bits & bytes
TCS to raise headcount in Latin America
Looking at strengthening its operations in the overseas market, software major TCS plans to hike its headcount in Latin America, while its joint venture with Microsoft and NDRC in China is scheduled to kickstart by the year-end. "Our new focus areas are now Latin America and China. We are looking at increasing the headcount to 6,000 from the current level of 3,500 in those Latin American countries, where we have operations — Chile, Uruguay, Argentina and Brazil," TCS CEO S. Ramadorai said recently.

Telecom jobs to double in 5 years
Yoshita Singh
Employment in India's fast-growing telecom sector is set to double in the next five years from the present level of 1.5 million people, industry experts, gathered at the CEO Conclave in Colombo have said. The Indian IT services and software sector is likely to generate revenue of US $ 80 billion in the near future, providing employment to four million people, experts, including IIM-Ahemdabad Professor Rekha Jain, estimate.

Smart Skills
Chemical equation
Usha Albuquerque
Our modern society relies greatly on those who help manage resources, protect the environment and control health and safety procedures. Chemical engineers do all this, while working on projects as diverse as providing water to the rural areas, helping create a pollution-free environment and cutting-edge tissue engineering research, while developing the processes that make the products we desire or depend on.

IT firms in hiring mode for bigger bench strength
Domestic IT firms are continuing their hiring juggernaut, but it is their bench strength or reserve employees that is growing at a higher rate than the overall pace of recruitments. The total headcount of the Fab Five club of Indian IT space—TCS, Infosys, Wipro, Satyam Computer and HCL Technologies—has increased by nearly 38 per cent with the addition of more than 75,000 employees in the past one year.

Career Hotline
Ensure a career in insurance
Pervin Malhotra
Q I have completed my graduation. How can I become an insurance broker (both life and general).
— Nitin Kumar
A To gear up for the spurt in demand for trained insurance professionals, both for insurance and brokerage firms as well as their intermediaries (market projections peg the demand at 25,000 additional jobs), several institutes have emerged that offer courses at all levels.