M A I N N E W S
We are not selfish: Hu
* Speaks of a new course in relations
* Next boundary meeting in December
Rajeev Sharma
Tribune News Service


Hu's day out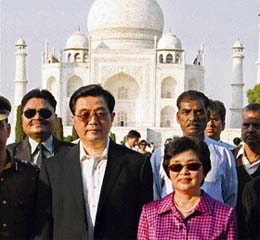 Chinese President Hu Jintao and his wife Liu Yongquing pose in front of the Taj Mahal in Agra on Wednesday. Hu is the first Chinese President to visit India in a decade.
— AFP photo
New Delhi, November 22
India will make all efforts to hold the next round of Special Representatives' level talks on boundary dispute with China next month itself, well-placed sources said today. The next round of the talks is due to be held in Beijing.
There is a bright chance that talks between the two Special Representatives, Mr M.K. Narayanan (India) and Mr Dai Bingguo (China), take place next month itself following the clear signal from the two countries' top leadership that the secretaries expedite the boundary settlement process. Prime Minister Manmohan Singh and the visiting Chinese President Hu Jintao had agreed during their summit-level talks that an early settlement of the boundary issue was a "strategic goal" of both the countries.
Mr Hu made it clear today that his India visit was to enhance "mutual trust" and "chart a new course for future". He stated this while delivering a lecture at Vigyan Bhavan here. Mr Hu said China was ready to work with India in this direction.
The Chinese President expressed the hope that the boundary between China and India would be converted into a "bond of good neighbourliness and mutually-beneficial cooperation." He underlined the need for the two countries to "step up friendly consultations and work for an early settlement of the boundary issue."
Mr Hu stated that Beijing was ready to play a "constructive role" for promotion of peace and development in the subcontinent and that his country welcomed and supported improvement of relations between India and Pakistan. "China does not seek any selfish gains in South Asia," he added.
Leader of Opposition L.K. Advani and Left party leaders called on Mr Hu today before he left for Agra and Mumbai.