M A I N N E W S
Protesting Tibetan sets himself ablaze
Tribune News Service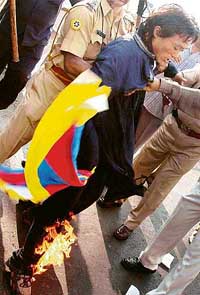 Policemen try to prevent a Tibetan protestor from self immolation outside the Taj Mahal hotel where Chinese President Hu Jintao has put up in Mumbai on Thursday. — PTI photo
Mumbai, November 23
Defying a ban on protests, hundreds of Tibetans protested against the visit of Mr Hu Jintao to India and one of them set himself on fire outside the Taj Hotel where the Chinese President was staying.
According to Mr Tsering Dhundup, a spokesman for the Tibetan Youth Congress, the protester poured kerosene on himself and set himself ablaze before he was rescued and taken to hospital by policemen.
The name of the protester was given as Lhakpa Tsering, president of the TYC's Bangalore unit.
The incident happened early this morning when some activists of the TYC attempted to storm the hotel. Holding "Free Tibet" banners, the protestors were immediately arrested.
Another group of about 200 Tibetans was simultaneously on a day-long hunger strike at Azad Maidan in south Mumbai to protest against President Hu's visit.
The demonstration was organised by the 'Tibetan Sweater Sellers' Union of Maharashtra and Gujarat' and 'Friends of Tibet' organisations.
"Hu is world's leading autocrat and leads the regime responsible for genocide of over 75 million people", a leaflet put out by the protesters said.
Later President Hu Jintao left for Islamabad by a special flight.