M A I N N E W S
Moni — Ludhiana's basmati baron
Prabhjot Singh
Tribune News Service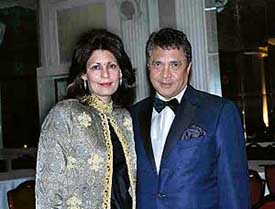 Moni Verma with wife Shobah
Chandigarh, November 23
He is not only a "basmati king" but also an ardent cricket fan, keen golfer and, above all, a true multi-nationality man. He is none other than Mr Moni Verma, who received the Asian of the Year award at Grosvenor House in London on November 21.
The award, which highlights the best and brightest Asian talent, creating role models for the entire community, is in the 31st year now. Earlier recipients include Karan Bilimoria, broadcaster Lisa Aziz and cricketer Imran Khan.
"I am both delighted and humbled by this honour as there are many who have greater achievements than mine. It is an incentive for me to go on and do more," he told The Tribune on the telephone from his London office.
Brought up in the former Rhodesia, in the area that later became Malawi, Moni is not only the youngest of eight siblings but is also the only one who was born in Ludhiana — the family's hometown .Incidentally, Moni was born when his parents were on a holiday in India.
The family had a house in front of Government College for Boys in Ludhiana while his maternal uncles lived in Maini Mansion, near the Jagraon bridge. "My wife, though from East Africa, belongs to a Jalandhar family," adds Mr Verma.
Though the family sold all its Ludhiana property seven years ago, it still has strong connections with the industrial city. Moni's sister is married in the Thapar family. And it is in partnership with Thapars that Moni got into the basmati business in the early 1980s. The name of his company, Veetee, comes from the initials of the two families - Vermas and Thapars. He speaks of his excellent relations with the Munjals of the Hero group, also from Ludhiana.
Except for his sister in Ludhiana, all his brothers and sisters are now settled abroad.
"I am in the process of setting up a major project in London. It is about ready-to-eat food which will be chilled and frozen to be supplied initially to food chains in Europe, Australia and North America. Depending upon its success, I plan a similar major unit in India," reveals Mr Verma, who has milling units in Sonepat in India and Lahore in Pakistan besides Nigeria and Malawi.
He started as a salesman for a printing firm. Demonstrating his passion for business, which he had inherited from his Indian-Punjabi parents, he was regularly taking home up to five times his monthly salary of £30 because of the commission.
Shortly afterwards, he invested £300 in a small machine to manufacture barbed wire. Within three years, capitalising on the developing country's need for steel, Moni made the company grow enormously and became a major player in the burgeoning steel industry.
It was such a success that in 1971, the then President of Malawi, Hastings Banda, bought it, keeping Moni on as MD. By 1979 the company was making a clear £1 million profit and was the most successful company in Banda's portfolio.
The early years of business in Malawi were tremendously valuable in giving Moni the experience and knowledge required to run a successful business. However, the political atmosphere didn't allow for complete independent control, and he was keen on testing his skills in a more developed economy.
In 1980, he met and married Shobah, and with her moved to the UK. There he maintained his interest in the steel industry. And Moni did not go the way the Mittals went, in becoming a steel baron.
Instead in 1985, Moni was approached by the in-laws of his sister in the food industry in Ludhiana seeking rice buyers in the UK. Although initially disinclined to turn his attention away from the steel industry, family loyalty won and Moni went about holding meetings with millers and importers.
His keen business eye quickly spotted a potentially lucrative gap in the market - at that time, the then EEC was imposing a levy of £ 450 a tonne on imported white rice, whereas brown rice could be imported at a much lower rate of £ 200 a tonne. It became clear that what was needed was a mill in situ in the UK.
By 1986 the company was up and running. The basmati market in the UK was at that time underdeveloped and long grain rice was predominant.
However, the Asian community provided a sufficient market and Moni was quick to spot the trend towards ethnic cuisine.
Veetee is currently the largest rice supplier in the UK retail trade. Veetee is also unique in rice manufacturing, as it is the only company to have factories in both India and Pakistan.
Apart from his passion for the rice industry, Moni also maintains a rice mill, a cashew nut farm and pulses plant in his native Malawi, as well as a paint factory and dabbles in the odd steel project.
Outside of work, one of his great loves is cricket, and he was hugely involved in the redevelopment of the Oval cricket ground, organising the Asia versus the Rest of the world match, as well as sponsoring Bangladesh in the World Cup.
Another interest is golf, and on days when he's not to be found in office, he's probably polishing his very respectable handicap of 8.