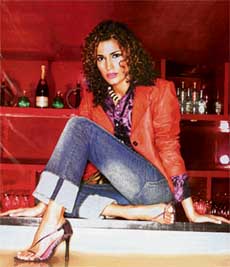 Winter Ensemble
Winter brings out the best in fashion—with many ways to look cool while staying warm. Priyanka Singh lists out the many options that fashion offers and not only to the fashionable
With winter making itself felt, it's time to get the woollens out. And the good thing is that for long now winter is no more about monkey caps, bulky jerseys and Kulu socks! One can retain the chic look with some care.
Festive charms
We might have missed Thanksgiving Day by a day, which is celebrated on fourth Thursday every November in the US, but that should not stop us from either considering the reason behind this celebration and of course bringing in a little festive charm into our homes.
No slaves to fashion
A winter night's dream (with apologies to Shakespeare!), a sweet chill, a strident excitement and dew drenched chairs! The Blenders Pride Fashion Tour 2006 is ready to rock and roll, so here a quick look at the gala event of the month!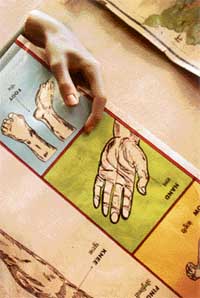 Hand that speaks


Everyone likes company but what do you say about someone who likes a hand as a travelling companion! Alliance Française de Chandigarh (Sector 36) and the French Embassy in India is organising an exhibition of photographs titled 'Hand Made – La Main' by French photographer Thibaut Chapotot where this bizarre buddy finds himself occupying pride of place in the photographs on display.
Blinging away to glory
Glitzy flamboyance is the flavour of this season too. We say this in addition to chocolate and bling spicing it up this year as well. In fact the more the merrier and as the fashion designers come traipsing into our city, one cannot help but believe Chandigarh has arrived.
An ode to nature
There is an air of quiet confidence about this young artist. Neither does she give any voluble descriptions of her work nor are her drawings characterised by loud flamboyance, but 23-year-old Kapila Verma's first solo showing is eloquent for her understated but incredible talent.
HOPSCOTCH
Images of a lost childhood
It is said that there is always a moment in childhood when the door opens and lets the future in. Of course, it is a different matter that what kind of future it may let in. It is not just a case of Que Sera Sera: Whatever will be, will be. In many young lives there is no question of brooding on what will be and what will not be. These are the children who form the large body of child labour in India and elsewhere.
Krishna's latest avatar
Lord Krishna arrived in the city today with a heady mix of Sanskrit-Hindi and long spiritual messages. And by the time we stripped him off his Krishna avatar, we got to know about his new one, this time as a narrator of Sony Entertainment Television's Man Mein Hai Visshwas.
Debaters unite
You don't call them the jet age kids for nothing! Meet this awesome foursome from the city who bonded on the way back from a debate competition in Delhi and struck upon the idea of forming a platform where debaters from all over the world can unite, express, compete and debate over problems facing the world today and be judged impartially. Akshay Vashishth, class 10 from Saint Johns, Aruj Garg, class 11 from Hansraj Public School, Ashmita Gupta, class 12 from Sacred Heart and Manonit Kaur, class 12 from Shivalik Public School, have formed a debating society called Wordz, to popularise public speaking.
WORD POWER: Akshay, Aruj, Ashmita and Manonit. — Tribune photo by Parvesh Chauhan


NEW RELEASES
Action-packed entertainer
Yash Raj Films' Dhoom: 2, a sequel to Dhoom (2004), will be released today at Piccadily, Kiran, Chandigarh, Fun Republic, Manimajra and Suraj, Panchkula. The buzz is that it is the most spectacular film of the year 2006. Directed by Sanjay Gadhvi of Dhoom fame. The director proudly says, "Dhoom: 2 contains never-seen-before action sequences, breathtaking high-speed chases and excitement.

Hrithik Roshan and Aishwarya Rai in Dhoom: 2
---