Commercial rents, property prices stabilise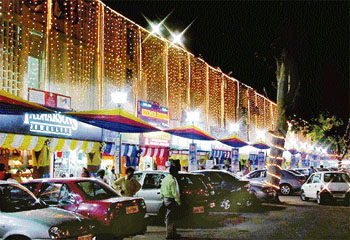 Quashing of the Rent Act notification by the Supreme Court is a tears & cheers event for landlords and tenants, respectively, says Rajmeet Singh
The burgeoning real estate prices in the city have started to stabilise in wake the quashing of the Rent Act notification by the Supreme Court. Bringing misery to the landlords and cheers to hundreds of tenants, the pronouncement has adversely affected the property transactions.
Rents and property prices in the commercial hubs of Sectors 17 and 22 have stabilised after the Rent Act notification was quashed by the Supreme Court recently. — Photo by Malkiat Singh


HIGHLIGHTS
Fast-track courts sought for quick settlement of rent-related cases.
Required a Model Rent Act for Chandigarh. *End in sight for over 2000 Rent Act cases pending in local courts.
Property prices and rents stablise
Quashing of the Rent Act notification boost trade
A number of property transactions put on hold
Tenants, paying less than Rs 1500, now ready to increase the rent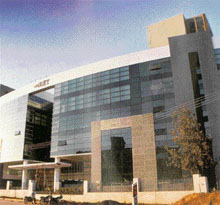 Bangalore overtakes London
Bangalore has overtaken London in the demand for commercial space while in India it leads in demand for housing
Hot on property demand, especially for commercial space, Bangalore has overtaken London and emerged second in the world after Tokyo with demand for commercial property shooting up to 10 million sq ft a day. Tokyo leads the world with the demand put at about 12.5 million sq ft, Mr K Balakrishna Hegde, president of the Karnataka Ownership Apartments Promoters Association (KOAPA), told newsmen here.
Big firms, foreign realtors enter North market
The real estate boom in North India has caught the attention of not just big Indian players, but also realtors from abroad. With property prices in the region matching those of cities abroad, the boom is likely to continue.
Unique shopping complex in Srinagar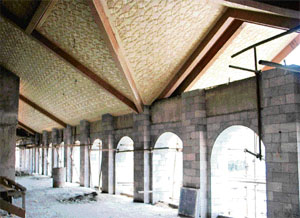 While shopping malls by private firms are coming up haphazardly in many peripheral areas of Srinagar, the Srinagar Development Authority (SDA) has taken a lead by constructing a unique shopping complex in the heart of this capital city. This unique Sangarmal Shopping Complex, spread over an area of 64 kanal, is being constructed by the government agency, SDA. It is coming up at the Maulana Azad Link road facing the sprawling playgrounds of the century-old Sri Pratap College.
A view of the Sangarmal Shopping Complex under construction in Srinagar. — Photo by writer
HP retention policy violates town planning Act
The Himachal Pradesh Government has recently submitted a Rs 3,300-crore plan for the rejuvenation of Shimla, aptly called the "Queen of Hills" under the Jawahar Lal Nehru Urban Renewal Mission. But surprisingly it has come out with a retention policy as well to help regularise all unauthorised structures, which will spell doom for the capital town. The policy has been brought in violation of the Town and Country Planning Act.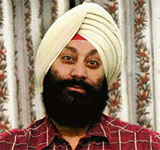 DEVELOPER SPEAK
A dream with a view
Having made a mark for himself by taking the family-owned businesses to new heights, Manjit Singh today wants to realise his dream of building the region's first township which has, among other things, a lake, a helipad, a golf course, shopping arcades and a multiplex.

Manjit Singh
TAX tips
Interest on PF loan not deductible expenditure
Q. I am working with a government undertaking and have been posted in Punjab for the time being. I intend to settle down in my native place and have therefore purchased a plot for constructing a residential house. For that purpose I had borrowed a sum of Rs 5 lakh from my provident fund account so as to meet the cost of the plot. Will the interest payable on such borrowing be taken as a part of the actual cost of the plot?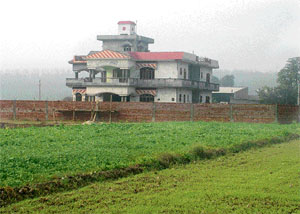 Farmhouse culture raising land prices
After Delhi the farmhouse culture is fast gripping the Doaba region of Punjab. Over 400 farmhouses have come up in Jalandhar, Kapurthala and Hoshiarpur districts in last about two years. What has forced people, particularly, industrialists, businessmen and doctors to go in for small and big farm houses is their growing need for greenery, clean air and natural surroundings.
A farmhouse near Jalandhar. — Photo by S.S. Chopra
Netpick property to check bogus deals
Whether you are a investor looking to buy a property or scouting for a suitable abode, hunting for a good and suitable property and striking a good deal is tough. Frauds, bogus deals, paying exorbitant amount for a worthless property or being handed down a disputed property - the pitfalls are many.
Foreign investors eyeing realty market, says Assocham study
Due to massive inflow of FDI, cutthroat competition will emerge between domestic and overseas investors, says S. Satyanarayan
The real estate in India is hotting up with several leading international investors showing keen interest and establishing their presence in domestic real estate business. According to a recent finding the FDIs' share in real estate is expected to touch 26 per cent by March 2007, triggering a cutthroat competition between the domestic and international players.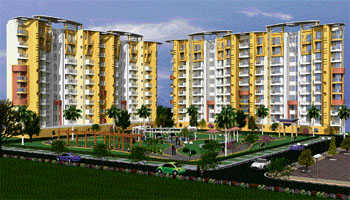 Mal(l)amaal
With several multi-storeyed residential projects in the offing, many malls and multiplexes are mushrooming in Faridabad, says Bijendra Ahlawat
With the realty sector booming in the NCR region, Faridabad is not lagging behind. While over a dozen of sectors, covering hundreds of acres of land in the eastern belt, have been earmarked for the development of high-rise multi-storeyed residential buildings, the builders have not forgotten the need for multiplexes and the shopping malls in this premier industrial township.
Indian realty firm generates £ 180m from London IPO
Domestic realty firm Ishaan Real Estate Plc has said it raised £ 180 million (over Rs 1,500 crore) with the successful completion of its initial public offering on the London Stock Exchange.
Hiranandani plans $ 750m share sale
Hiranandani Constructions, the developer of the world's tallest residential building, plans to raise $ 750 million selling shares next month in the biggest offering by an Indian developer on the London Stock Exchange, bankers with knowledge of the plan said.
Realty firms eye stock market with over $5 billion IPO plans
On the heels of huge success of Parsvnath Developers' public issue that generated demand for over Rs 60,000 crore worth shares, domestic real estate firms are planning to raise nearly Rs 22,500 crore through their public offerings.