THE OTHER SIDE OF MIDNIGHT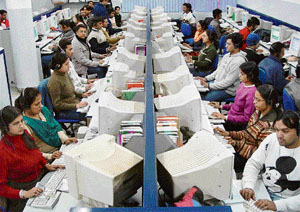 Work at the call centres appears plush and well paid. But scratch the surface and look what emerges: stress, stagnation and a string of health problems.
Jangveer Singh in Bangalore looks at the Indian BPO industry. The middle class loves it for the money and the better life it brings. Yet, it worries if thereís a future beyond the call centres for the well-heeled Ďcyber cooliesí
NO amount of training could fully prepare Arun S to deal with Americans. Confident that he could speak in an American accent and was doing a job he was trained for, Arun did not realise what his foreign clients thought about him when he put on a fake accent to pass off as a fellow national while taking their calls sitting in a call centre in Bangalore.
Itís all about money
Thereís many a catch to working in call centres. Difficult hours and rude customers are just two of the problems, reports Nilanjan Gupta
Call centre jobs lure those fresh out of college as well as the middle-aged. Rajesh Gupta, 34, married with a daughter, has been working in a BPO for nearly three years and has no immediate plans of leaving.
---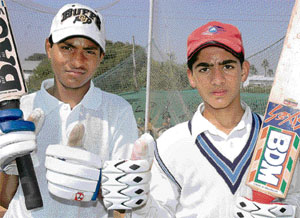 Record knock: 721 not out
It was a day to cheer for cricket. It was a day to rejoice for India when two Hyderabad lads Bodepalli Manoj Kumar and Mohammed Shaibaaz Tumbi bettered the Sachin-Kambli record by remaining not out at 721 during an inter-school match. Ramesh Kandula talks to the top scorers
When they took to the crease that Wednesday, the 15th of November, the two teenagers probably had no inkling that they would be batting their way into the record books.
ĎAnimatedí Karan Johar
After a probing treatise on marriage, director Karan Johar is all set to go into an unexplored territory ó to make an animation film. Says the director who is on lecture tours: "Itís my production houseís first animation film, and Iím naturally very excited about going into a new territory. Itís going to be based on a novel concept, a complete feature film like any Dharma Production with songs, emotions... you name it.
Back to Beatles
A hand-painted psychedelic jacket made for former Beatle John Lennon in 1967, and a guitar played by his bandmate George Harrison will be put up for sale at an auction, slated to be held in London on November 30.