A Test above the rest

The Australia-West Indies clash at Brisbane in 1960 witnessed the first tie in the history of Test cricket. Ervell E. Menezes writes about the historic encounter and the legendary players who made it a cracker of a contest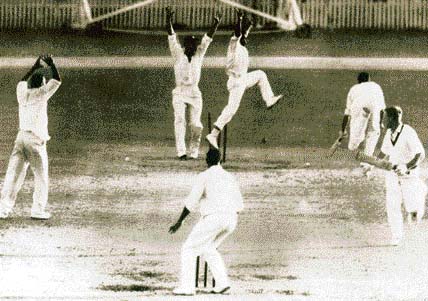 West Indian players celebrate as tailender Ian Meckiff is run out by Joe Solomon, preventing Australia from scoring the winning run
The best thing about television and DVD players these days is being able to see the classics, whether of cinema or sports. What's more, they are able to capture moments which were not available to us at that time. So when Ten Sports "recreated" the 1960 Brisbane Test between Australia and the West Indies, it was something to cherish, especially as it had the players involved to comment on the unforgettable match four decades later.
It was the first tie in Test history and it did more to revive interest in Test cricket than anything before or since. So did the series, which was a close-fought one.
A year earlier, England had toured Australia. "Peter May's Invincibles", as they were called, lost the Ashes to Australia and in the Brisbane Test they scored a little over 100 runs in a whole day, with Trevor "Barnacle" Bailey being the biggest offender. Former West Indian captain and wicketkeeper Gerry Alexander referred to Test cricket in those times as an ordeal.
So it was very important that some fresh spirit was imbued, nay even injected, into the game. And that is precisely what the Frank Worrell-Richie Benaud combine did with élan — fiercely competitive on the field but warmly friendly off it. The Frank Worrell Trophy was instituted for future Australia-West Indies series. The rest, as they say, is history.

Garfield Sobers struck a blazing 132 for the West Indies
In contrast to today's hate-the-opposition mantra, cricket was still a gentleman's game then. Lindsay Kline recalls how several players from either side would be in Sir Garfield Sobers' room each evening listening to Calypso music. How can one forget the one of "Ramadhin and Valentine, those two West Indian pals of mine" when the Windies humbled England a decade ago. The spin pair was still in action in 1960.
The little anecdotes also provide excellent copy. Because Benaud got Sobers out twice in the match against New South Wales, the Press started labelling Sobers as Benaud's bunny. But there were kind words from the great Don Bradman to Sobers when he saw him in Brisbane near the dressing room. Patting his head, he said, "Don't you worry, son, you'll get him at the right time."
And indeed, he did, with a glorious innings of 132 at Brisbane, after which the Don went even further in praise, though in mock sarcasm, by saying, "It's a good thing you couldn't pick Benaud."
Total recall
It was a neat little package, very well scripted, good lines, colourful anecdotes. The players had aged, grown bald, bulged at the midriff, but they had not lost the sparkle in their eyes. Ian Meckiff, Lindsay Kline, Alf Valentine (his spin twin Ramadhin was absent), Sir Conrad Hunte, Rohan Kanhai, Joe Solomon, Lance Gibbs, Peter Lashley, cricketer-turned-commentator Benaud, Alan Davidson, Neil Harvey (my childhood hero who refused to sign an autograph at the CCI) and Colin McDonald (who asked me to hold his towel — they had come from a swim — as he signed an autograph for me). No Bradman, no Worrell, no Norman O'Neill, no Ken Mackay, who had all departed to what they often refer to as "a better world".
In between were clips of the live action. Sobers' scintillating 132, Worrell's 65, O'Neill's 181 and McDonald's dogged 57 after being felled more than once by Wes Hall (but all the Windies players went to his assistance, unlike today). Then there was Alan Davidson's 80 and Benaud's 52 in the second innings. When Benaud told the Don at tea time that they were going for victory, his eyes lit up. "That's great", he said. And then those amazing run-outs — Joe Solomon hitting the stumps twice. Imagine an Australian batsman being run out while taking the winning run. A tie, that was unheard of.
Hall of fame
When on the first day the Windies piled up 359 runs, the Don was ecstatic. "I don't believe it," he quipped. "Roll on 10 o'clock," Gerry Alexander would say and this was in stark contrast to playing the series against England. Everyone was raring to go, a phrase first used by Windies speedster Wes Hall (what a big hand he played in the Brisbane Test). Hall was a fast bowler who operated alone in those days, even though he later had Charlie Griffith for company. In the 1980s, the Windies had them in packs of four.
After getting the crucial wicket of Benaud, he expected praise from his skipper, but was admonished. "What did I tell you," he asked. Hall pleaded ignorance. "Don't bowl a bumper," Worrell is said to have repeated. Then Hall went to explain how and when he bowled a bumper, when his run-up was right and he was in a mood to bounce the ball.
Peter Lashley, a left-handed batsmen who fielded close to skipper Worrell, recalled conversations with the famous W. After six Australian wickets had fallen in the second innings, he told Worrell, "We've got them," but Worrell replied, "Oh no…" which probably meant not yet.
As it turned out, Benaud and Davidson (these were real all-rounders, not the poor man's Keith Millers we have today) had a 100-run partnership which almost sealed the match for the Australians. And as Benaud said, if the grass had been cut, Wally Grout would not have been run out, the ball would have gone for four. It was a slip or sheer laziness that cost the Australians the match.
Solomon's strikes
Joe Solomon (in Mumbai three years earlier I was reluctant to ask him for an autograph because he looked more like an Indian than a West Indian) was very modest about being lucky to hit the stumps for the two run-outs. "We were boys from the country, good at marbles," was his reason for hitting the stumps. They also threw stones at mangoes. So the wickets must have appeared much larger. But all said and done, a tie was the quite the appropriate ending.
Neil Harvey, who looked like P.G.Wodehouse's Jeeves in his blazer, blamed the groundsman for not cutting the grass near the boundary. But what a great player he was in his prime. You could call him twinkle-toes for his fleet footwork. His 140 against India at the Brabourne Stadium is still deeply etched on memory. How he got off the mark with a two off India's legendary leg-spinner Subhash Gupte! Later, Gupte would not know where to pitch the ball, so complete was Harvey's mastery over the leggie. Harvey was also labeled a new Bradman as was O'Neill. "It was like putting a curse on him," said Hall about the Bradman tag on O'Neill.


Alan Davidson (top right) scored 124 runs and took 11 wickets
in the match
Hall's athleticism and stamina were remarkable. He bowled tirelessly and in those days there were eight-ball overs in Australia.
Davo, as Davidson was called, did a good mimicry of Ken "Slasher" Mackay, chewing the cud, "Chomp, it's not going to be easy," he told Davidson with whom he was batting. "I can't read Ramadhin" and when he got out, "Chomp, sorry" and that was the end. "Fancy having to lose like this," Meckiff was telling Kline and none of the players were sure what the result was. After all, a tie was unheard of then. But that didn't stop them from partying as they had never done before. The two teams were at the Gabba till 10 pm and it was clear victory for the game of cricket.




Perfect match
West Indies (1st innings): 453 (Garfield Sobers 132, Frank Worrell 65, Joe Solomon 65; Alan Davidson 5-135, Lindsay Kline 3-52).
Australia (1st innings): 505 (Norman O'Neill 181, Bob Simpson 92; Wes Hall 4-140).
West Indies (2nd innings): 284 (Worrell 65, Rohan Kanhai 54; Davidson 6-87).
Australia (2nd innings): 232 (Davidson 80, Richie Benaud 52; Hall 5-65).

University cricket in doldrums
Donald Banerjee
The cricket colour on the university blazer was at one time considered to be a great achievement for a player. But not any more. Gone is that aura that surrounded a university blue.


| | |
| --- | --- |
| | Dronacharya awardee cricket coach Desh Prem Azad wants the universities to improve the match fee structure for players |
The platform that gave Polly Umrigar to Indian cricket in 1948 has been reduced to a nonentity. The Combined Universities team used to pose the biggest challenge to any Test team touring India. That era ended in the late 1980s, when those controlling the university cricket affairs decided to make the tournament a limited-overs affair.
The limited-overs competition and the poor allowance given by the university authorities saw the cricketers being weened away to play in tournaments organised by the Board of Control for Cricket in India (BCCI).
Several cricketers, be it Nari Contractor, ML Jaisimha, Rusi Surti, Ajit Wadekar, Dilip Sardesai, Vijay Mehra, Bishen Singh Bedi, the Amarnath brothers (Mohinder and Surinder), Sunil Gavaskar, Kapil Dev and Yog Raj Singh, made it to the Test team after donning university colours in the Rohinton Baria Trophy.
In the early 1970s, MP Pandove and Ravinder Chadha played for the universities. At that time, the Rohinton Baria final used to be played till the finish. One of the finals (Delhi-Bombay match) went up to seven days. That was the time when Panjab University used to be the venue for some good cricket by players vying for a berth in the Test team.
The matches used to be for three days up to the quarterfinal stage, but the semifinals and the final were played to the finish.
This format was changed by the All-India Universities Board to limited overs up to the quarterfinal stage, two-day semifinals and a three-day final. The obvious result used to be "won on first-innings lead".
The Rohinton Baria trophy hosted by Aligarh University last month attracted 27 teams from the zone. The players slept on the floor and got a measly daily allowance. This allowance varied from one university to another. While the host team shelled out Rs 75 a day for each cricketer, Panjab University gave each cricketer a daily sum of Rs 125. One university gave a "princely" Rs 50 a day to each cricketer.
A comparison of the allowance given to cricketers playing in the under-15, under-17, under-19 and under-22 organised by the BCCI is proof enough of how the universities are "looking after" their cricketers.
Under-15 and Under-17 tournaments: Rs 500 a day as match fee, Rs 300 as DA, 2nd Class AC fair, hotel accommodation.
Under-19 and Under-22 tournaments: Rs 1,000 a day as match fee, Rs 300 as DA, 2nd Class AC fair, hotel accommodation.
The university players taking part in the Vizzy Trophy inter-zonal tournament are paid much more than their counterparts playing in the Rohinton Baria. The BCCI gives the same facilities to the university players as enjoyed by the under-19 and under-22 players.
Ashok Malhotra, who played at the Sector 16 cricket stadium and went on to represent India in Test cricket, says: "The universities should loosen their purse strings. It is time to restore the glory of the university blue."
Desh Prem Azad, the country's first Dronacharya awardee in cricket, is a sad man. He feels the university players are a neglected lot. The coach, who produced cricketers like Kapil Dev, Yog Raj Singh, Chetan Sharma and Ashok Malhotra, says the universities must restart the whole process so that it again becomes a launchpad for entry into the Test team.
Azad, who was in Aligarh during the Rohinton Baria matches, wants the old format to be reintroduced and hopes the universities will look into the match fee structure for the players.
Azad says that while the cricket board is going all out to improve the fee structure for cricketers, the universities are neglecting their players.
Those playing in the Ranji Trophy are paid Rs 4,000 per day as match fee and a DA of Rs 500 a month. Besides, they are entitled to discounted air tickets. And if all goes well, the Ranji Trophy players are in for a much bigger match fee. The total match fee for the Ranji Trophy might be hiked to Rs 64,000 this year. Amen!

IN THE NEWS
Two's company
India's Thomas Sanave and Rupesh Kumar staged a great comeback to beat the Malaysian pair of Chang Peng Soon and Chang Hun Pin 19-21, 21-8, 22-20 in the men's doubles final of the Indian International badminton tournament held in Mumbai last week.
Rupesh Kumar (left) and Thomas Sanave won the men's doubles title at the Indian International badminton tournament in Mumbai last week. —
PTI photo
After the Malaysian pair had won the first game at 21-19, Rupesh and Sanave came into their own, with the latter being extremely lethal with his smashes. They pocketed the second game at 21-8 to force a decider.
The deciding game saw the contest going neck and neck till 15-15 before the Malaysian pair pulled ahead to lead 20-17 and have three match points.
However, the Indian pair, egged on by a partisan home crowd levelled the score at 20-20 and then went on to bag the next two points and with it the doubles title.
Hyderabadi teenager Saina Nehwal delighted her fans by winning the women's singles title, beating Korea's Jang Soo Young in the final. Her triumph helped her retain the crown she won last year beating eight-time national champion Aparna Popat in the title clash.
However, Nikhil Kanetkar could not get inspired by her performance or the guidance of national coach Pullela Gopichand and went down tamely to his higher-ranked Korean rival Lee Cheol Ho 21-11, 21-11 in the men's final.
The Indian women's doubles duo of Jwala Gutta and Shruti Kurien also could not match their Korean rivals and lost 18-21, 19-21 to Jung Youn Kyung and Kim Min Jung. Korean shuttlers won three titles — men's singles, women's doubles and mixed doubles — while India were not far behind with two. — Agencies