Rajnath re-elected BJP chief
Tribune News Service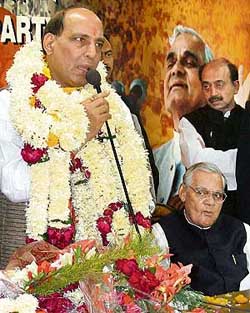 Newly elected BJP President Rajnath Singh with senior leader Atal Bihari Vajpayee addresses a meeting at the BJP headquarters in New Delhi on Sunday. — Tribune photo by Rajeev Tyagi

New Delhi, November 26
Mr Rajnath Singh was today re-elected BJP President for a three-year term, national returning officer O. P. Kohli announced.

Mr Singh's unopposed re-election was announced half an hour ahead of the closure of the time of receiving the nomination papers.

Mr Singh was chosen party President at the National Executive in Mumbai last December after the then chief, Mr L. K. Advani, stepped down.

Former Prime Minister Atal Bihari Vajpayee and Mr Advani proposed Mr Singh's candidacy, praising his leadership skills.

The returning officer received 15 other nominations, all in support of Mr Singh.

Mr Singh, while speaking to reporters at the party headquarters shortly later,

said he would stick to his style of functioning.

The 55-year-old Mr Singh, a staunch proponent of the RSS-core Hindutva ideology, contended that the BJP was rapidly regaining public trust.

"Some may find our style of functioning to be awkward. But there is a set pattern in which the party has to work. I cannot give it up," he said when asked about his views on differences within the organisation.

He announced the party's plans to hold a public rally in Lucknow on December 24, which he said would be addressed by party veterans to launch the campaign for the Uttar Pradesh Assembly elections.

Asked if he would visit Jhandewalan, the headquarters of the RSS, before carrying out work allocation, Mr Singh said he had no hesitation in proclaiming that he was a proud swayamsevak. However when it came to work, there was no interference from the RSS in the BJP's functioning.

The BJP has already scheduled the meetings of the National Executive and National Council at Lucknow on December 22, 23 and 24. The council will ratify Mr Singh's election as BJP President.

The states which had proposed Mr Singh's name were Andhra Pradesh, Arunachal Pradesh, Asom, Bihar, Chhattisgarh, Gujarat, Haryana, Kerala, Madhya Pradesh, Maharashtra, Orissa, Tamil Nadu, and West Bengal and the UT of Dadra and Nagar Haveli.