food talk
Shami kebab without frills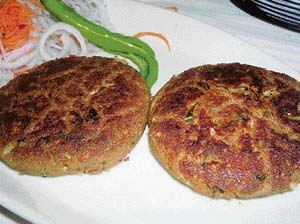 Often linked with sinfully indulgent evenings, shami kebab was the most preferred pre-dinner snack in Lahore before Partition, says Pushpesh Pant
According to a legend, there is a legion that chased the elusive trail of the Holy Grail. For us trying to unravel the mystery of the name of shami kebab has been a challenge equally daunting.
Sham is evening in Urdu and sham-e-Awadh, evening in Lucknow of yore, are stuff magical memories are made of. Sharab, kebab and shabab are what enlivened the sundowner moments for those who had dedicated their lives to pursuit of sensual delights and was there a single soul in that city of nawabs who did not reckon himself as a bon vivant?
We were once told by veteran journalist, the late Pran Sabarwal, that in Lahore too, that Paris of Orient, before Partition it was the most preferred pre-dinner snack. There are many who believe that shami is an adjective that links this delectable morsel with sinfully indulgent evenings.


Chef's Corner
Ingredients
Mince 500 gm
Chana dal 75 gm
Whole red chillies four-six
Onions (finely chopped) 1 tbsp
Green chillies (finely chopped) 1 tsp
Peppercorns 10
Cinnamon stick 1inch
Bay leaf one
Black peppercorns two
Salt to taste
Ghee/oil to shallow fry

Method
Boil the mince with chana dal and the spices in a thick-bottomed pot with just enough water to cook. In the end, all water should be absorbed. Allow the mixture to cool. Then grind (after removing the whole spices) to obtain a fine paste. Divide into equal portions, shape into small balls, flatten and place a little of chopped chillies and onions in the middle, roll again into a ball flatten once again and shallow fry in batches on low heat till a crisp, dark brown crust is formed. Turn carefully and repeat on the other side.

There are the dry scholarly types who have tried to distract us with a wild goose chase in a city called Sama in mentioned Arabian Nights. An unabashedly parochial perfumer from Kannauj offered the most far-fetched explanation linking the spices used with the seductive whiff of an itr called shamama.
We have in the past talked of the wonderful shami served by Sakhavat Miyan in Lucknow and referred to the more robust but tantalisingly spiced with a hint of mint Bhopali version and registered our discomfort with the more or less deep-fried Delhi specimen. Thanks to the hype accompanying the marketing of galouti, poor shami has almost been forgotten. A mini-shami going heavy on chana dal dished out as a cocktail snack can never be granted recognition as a true blue descendent.
Where does all this leave us? A rose remains a rose whatever be the name given to it and friends are beginning to speak out loud what they have long suspected that our researches are merely a ploy to scrounge a variety of shami at different outlets and hospitable homes.
We shall let that pass and only share the latest news on the shami front with our readers. Shams Parvez from Moradabad now in charge of the Indian delicacies at Siddharth Hotel in New Delhi recently turned out an almost perfectly, very lightly shallow fried, shami to our delight. The good old patty in its Sambhali avatar was without pretentious frills and quite irresistible with puffed up phulka. A small bowl of arhar dal on the side completed our blissful meal. The accompanying onions and chutney went back untouched.