Nature
Saving species the hi-tech way
LaCones or the Laboratory for the Conservation of Endangered Species will develop technology for the cloning of rare species, monitor genetic variation and establish gene banks. A report by Ramesh Kandula from Hyderabad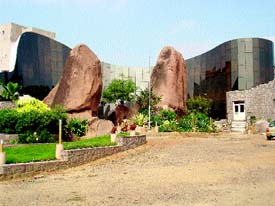 The LaCones facility in Hyderabad. Photos by the writer
THE pioneering technology of DNA fingerprinting, which has become an effective tool in nabbing criminals, is all set to come to the rescue of wildlife conservation. And India has blazed a new trail in this direction by setting up, for the first time in the world, a laboratory for the conservation of endangered species.
India is home to a wealth of biodiversity in plant and animal life, which has been facing systematic extinction due to environmental degradation among other factors. The fragmentation of habitats of wild animals is causing inbreeding of animals leading to the reduction in their genetic diversity, endangering their survival.
It is in this backdrop that the Centre for Cellular and Molecular Biology (CCMB) in Hyderabad proposed as far back as 1998 for undertaking a project to make use of biotechnological intervention for the conservation of endangered animals. Following this initiative, the Department of Biotechnology and the Central Zoo Authority of India came together to establish a state of the art centre under the auspices of the CCMB.

One can identify each and every individual animal because of the unique arrangement of repetitive DNA, popularly called DNA fingerprint
— Prof Lalji Singh
The result is the Laboratory for the Conservation of Endangered Species or LaCones for short, which has come up on a beautiful five-acre rocky landscape on the outskirts of Hyderabad at a cost of Rs 11 crore. The prestigious facility will soon be dedicated by President APJ Abdul Kalam to the country.
LaCones will, among other things, develop technology for the cloning of extremely rare species, monitor genetic variation, establish gene banks, study semen quality for the selection of animals for breeding purposes and take up in vitro fertilisation for conservation purposes.
"Cheetah, for example, is extinct in India. But, even if a single cheetah would have been found, or had the cell lines been made from cheetah, it would be possible to resurrect the species," says Prof Lalji Singh, Director, CCMB and the guiding spirit behind LaCones. He has been trying to procure a couple of Cheetahs from Iran with the hope that they can be multiplied by cloning technology using leopard as a surrogate mother.
The lab will store genetic material of gravely endangered species in gene banks, as a safeguard against extinction in the wild with the help of the Zoological Survey of India. At an opportune time, the species will be regenerated in captive conditions and prevent their extinction.
A major breakthrough achieved by LaCones is the development of non-invasive methods for DNA isolation from scat or faeces and hair samples, which comes handy in tiger population estimation. Tigers have dwindled to an estimated figure of 4500 by 1998 in India, and the threat of extinction continues to hang over these animals. Since population estimation is important for conservation planning, counting our tigers in a scientific manner has become imperative.
The traditional methods of estimating tiger population such as pugmark method or through invisible camera suffer from several flaws including human errors. The CCMB has now come up with a method that relies on DNA fingerprinting.
"One can identify each and every individual animal because of the unique arrangement of repetitive DNA, popularly called DNA fingerprint," Prof Lalji Singh said.
Prof Singh and Jyotsna Bhagavatula, a PhD student working with him, have perfected a method to generate DNA fingerprints of tiger by which one can uniquely distinguish one tiger from another, thereby arriving at a reasonable estimates of tiger population. The study was carried with faecal samples collected from Mudumalai Wildlife Sanctuary in Tamil Nadu and at BRT Sanctuary in Karnataka.
The results of the pilot study, published in BMC Genetics, an international online journal, indicate that it is indeed possible to conduct such surveys on a large scale, and this can become the method of choice for counting tigers in future, says Prof Singh. The method is presently tiger-specific, but can be modified for other endangered species.
On misgivings in some quarters over the 99 per cent accuracy claims of the method, the veteran scientist pointed out doubts were also expressed when an indigenous and cheaper method of DNA fingerprint technology was developed by him way back in the 1990s, and there was skepticism all around. But now, even the courts have started routinely accepting the evidence established through DNA fingerprinting, and most of the high-profile cases take recourse to this scientific method, which leaves no room for human error and witnesses turning hostile, he added.
"This (population estimation through DNA fingerprint) is a foolproof method, but it requires extensive sampling," he explained.
The CCMB had written to the Department of Biotechnology for funding for taking up the estimation of tiger population throughout the country through the newly developed technology under LaCones. "It would cost just Rs 1.5 crore to undertake this project in all tiger reserves in India," he said. However, the department is yet to respond to the proposal.
Besides developing a universal primer for forensic use to identify animal species, LaCones, among others, produced 'Spotty', a baby deer using artificial insemination technique, achieved pregnancy in black buck, cheetal deer and blue rock pigeon by assisted reproduction, developed a method for sexing of birds, identified the Himalayan wolf as a new species and demonstrated that the Ganges river dolphin is probably a 'living fossil.'
LaCones is unique in several ways not only because a number of organisations such as CSIR, Central Zoo Authority, Department of Biotechnology and Government of Andhra Pradesh have come together to undertake a programme which none of them would have been able to undertake, but also because there is hardly any project of this scale anywhere in the world, according to Prof Singh.
"Once this facility is fully functional, Indian zoological parks can play very important role as laboratories for scientific breeding of endangered species," he said.