UT honours skaters
G.S. Paul
Tribune News Service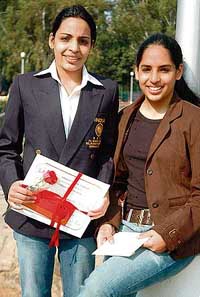 Sister Skaters: Shakun Salwan and Nehyal Salwan on rolls to success.
Chandigarh, December 5
The decision of the Chandigarh Administration to facilitate local sports persons, particularly skaters who have brought laurels at the international level, has infused enthusiasm amongst the skating fraternity of the city. The Administration today honoured Shakun Salwan and Japneet Kaur in recognition of their performance at international level for the year 2004-05.
Shakun Salwan, who at present is preparing for her third semester of B.E (Electronics and Communication Engineering), when contacted, expressed her gratitude to the Chandigarh Administration not only on her behalf, but also on behalf of the skaters of the city.
"I am thankful to the administration that they at least gave us some kind of recognition. Despite the fact that this game has not yet been recognised by the Chandigarh Administration, it is only my sheer passion for this sport that I have continued with it", expressed Shakun.
Resentfully, Shakun stated that skating, one of the fastest games and which requires expensive equipment, has not been given its due. "The skaters after devoting so much time and spending huge money on the game are not given benefits. This not only leads to frustration amongst the skaters and creates impediment in the development of the game," rued Shakun.
Revealing her future programmes, she stated that she is looking forward to participating in the World Cup scheduled next year. "There is a possibility of this game being included in the Olympics. For the preparations I am keeping myself fit and practicing regularly for at least 10 days a month at Sector 10 Skating Rink. Who knows, I might be the member of first Olympian team to represent India."
Shakun, who herself is having an academic career in addition to her sports achievement further added that women skaters from the city were also excellent in studies.
She quoted that Radhika Mehta has a brilliant career while Kriti Puri is pursuing MBBS from AIIMS. She herself is doing BE (Electronics & Communication Engineering) and Japneet Kaur, who is also being given cash award, is studying in 10+2 and her score was more than 90%.
Even at the junior level, her sister Nehyal Salwan who has also represented the national level, is a topper in studies.
Nehyal, a class IX student at Sacred Heart-26, is now ready to step in her sister's shoes. She would be competing in the Senior National Rollar Hockey Championship. Praising her protégé, coach Sarbjeet said, "Nehyal is left handed defender of the game. It is her speed, stamina and strength which makes her stand tall in the crowd. I hope she would be a known name in the years to come".
Giving a piece of advice to the budding skaters, Shakun said: "To play a 50- minute game, you need to have a good stamina. My advice to the upcoming skater is that when they are off to the rink, they must practice on the road.
The reason is that the roughness of the surface will add strength and stamina to their muscles. Fitness is the key which helps you achieve success in the game."