Hillside view
A bit beyond types and images
Some notions about different groups of people may have some grains of truth. These stereotype images and impressions do have their genesis in observation over long periods of time.
Alarm bells against AIDS
The Injecting Drug Users (IDUs) in the northern region has sent alarm bells ringing as the increasing HIV/AIDS prevalence rate among them poses a serious threat to country's most vulnerable 60 per cent young population.
Shimla Diary
Sports meet in journo's memory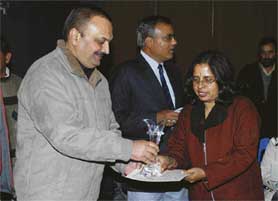 There couldn't have been a better way of remembering a person who loved sports and remained part and parcel of all such activities that were held in the town during his lifetime. It was for this very reason that the First Vikas Memorial Sports Meet, organised by the Shimla Journalists Sports and Welfare Association in memory of their Hindustan Times colleague, Vikas Panwar, was such a big draw.
Archana Phull receives the women's singles trophy in badminton at the Vikas Memorial Sports Meet. — Photo by Anil Dayal
81-foot-long idol of Shiva
Many tales of Hindu mythology can be heard from people here about worshipping of Shiva by the five Pandavas during their vanwas in Una district. Going by the belief of locals, at different places in the district and in nearby places, the Pandavas left behind Shivalingams they worshipped.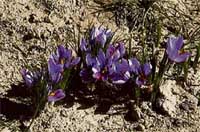 Saffron cultivation catches up
Cultivation is fast catching up in the hills of Himachal Pradesh. Saffron cultivated in the Mediterranean countries is now being popularised in these dry temperate hills by the scientists of the Himachal Pradesh Agriculture University, Palampur.
Crime shoots up, police inactive
The industrial activity in the twin industrial belt of Baddi-Barotiwala-Nalagarh-Parwanoo has pushed the crime graph up alarmingly. The presence of large number of migrant labourers from UP, Bihar and MP has made this belt prone to crime. Observations showed that over 80 per cent cases in Solan district are committed in this belt.
Controversy continues at MCM DAV College
MCMDAV College at Kangra, known as the Swarsati temple, today is bogged down with controversy. The academic staff of the college has been sitting on dharna for the past fortnight, raising slogans against the DAV Management Committee in Delhi.
A Gaddi's best friend
With very few quality kennels in most parts of the state, finding a pure breed dog is not easy.
Tourism project to be revived
The hopes of the villagers of this nondescript hamlet of Sadhupul, en route the picturesque Chail, have again been revived with a recent announcement made by Tourism Minister G. S. Bali to restart a tourism project here.
Rejuvenate yourself with yoga
To nurture a clear conscience what better place than the pristine environs of Dharamsala? And with yoga now being an in-thing world over, the meditation centres in McLeodganj, Dharamkot and Bhagsunag are thriving.
Storyteller sadhu
A sadhu turned scriptwriter of Geet Gaya Pathron Ne fame, Krishan Kumar Nutan, celebrated his 79th birthday in his hometown Mandi, last Wednesday. For readers of Hindi literature he needs no introduction.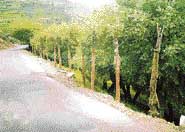 Greening the cold desert
The highways, passing through the places of historic and tourist attraction in the Lahaul valley of Himachal Pradesh, today give one a pleasant surprise. Once known as the 'barren land' of the cold-desert belt, the successful launching of a plantation drive along the major roads has given a green look to the highways.
Baddi is government's pot of gold
The industrial boom in the Baddi belt has brought a sharp rise in government revenue receipts. Despite the fact that the Central and state governments have extended the exemption on Central and state taxes, mainly to attract new investment, the revenue receipts have shown a healthy upward trend.