Late blight hits potato crop
Tribune News Service
Ludhiana, December 5
Late blight has severely affected potato crop in several districts of Punjab. There are pockets where this problem has assumed serious dimensions, particularly in Hoshiarpur, Nawanshahr, Jalandhar, Ropar, Kapurthala and Amritsar. The incidence varies from 20 to 90 per cent.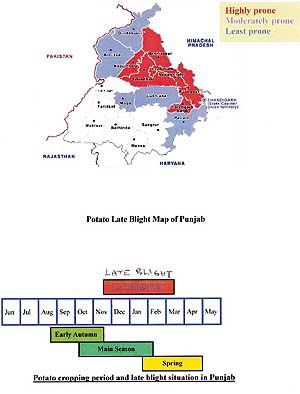 The potato plants hit by late blight.
Plant pathologist, PAU, S.K. Mann said today that the worst-hit varieties of potato are Kufri Chandramukhi and Kufri Pukhraj. The crop that has escaped the attack of blight because of high temperature is the one that was sown in the beginning of September and harvested in mid-November. South-western districts like Bathinda, Ferozepore and Faridkot have so far remained free from the disease.
"The present cloudy and humid weather is very favourable for further spread of the disease," she added. To check further spread of the disease, the farmers should take following precautions:
1. Where the disease has not yet appeared, farmers should go in for preventive spray of Indofil M-45 or Kavach or Antracol @ 700 g/acre and repeat at weekly intervals.
2. Where fields have started showing apparent disease symptoms, give one or two applications of Ridomil MZ or Curzate M-8 @ 700g per acre followed by one or two applications of Indofil M-45 or Antracol or Kavach.
3) Do not use tank mixtures of metalaxyl and mancozeb as it will lead to reduced efficacy. Repeat the spray if it has been washed down by the rain.
Pathologists have also suggested that tubers from infected fields should not be kept for use as seed. The next crop of potato should not be sown in the affected fields as it will help in preventing further loss from this disease.
In the last season (2005-06) blight had appeared late in the season i.e. in February-March and had significantly damaged the seed crop. The pathologists are of the opinion that the infested seed from that season sown in the current season has initiated the attack of the disease and favourable weather conditions, low temperature, high humidity, aggravated it.
In fact, the pathologists first noticed the attack of late blight in early November at Kartarpur, Pattar Kalan in Jalandhar and Phuglana and Pur Hiran in Hoshiarpur.
Ms Mann pointed out that several farmers do not follow PAU recommended spray schedules to check this disease. Quite often they spray only after the disease was well spread and wrongly conclude that fungicide sprayed did not check it effectively.
Another common phenomenon that has come to the notice of the PAU pathologists is that farmers also make their own combinations of metalaxyl and mancozeb that sometimes leads to sub-lethal doses and hence, are unable to control the disease. It has also been observed that farmers do not use the recommended doses of fungicide per acre.