The state of global health requires a fundamental shift in healthcare training, education, and research, says Dr R. Kumar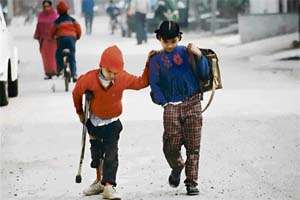 WHEN large areas of the world are suffering from diseases, the developed world cannot live in peace and remain content with its development. No doubt the burden of infectious diseases is increasing. Polio, which was on way to eradication, has experienced a comeback in India. African sleeping sickness has re-emerged in the war-torn Angola, Congo and Sudan. The spread of anthrax in the US has served as another reminder of the crippling disease. The resurgence of mumps in the UK has come as a rude shock. HIV, tuberculosis (TB), and severe acute respiratory syndrome (SARS) do not respect geographic borders. Dr Margaret Chan, who took over as the new director-general, WHO, emphasised the importance of global health. "Health security brings benefits at both the global and community levels. Diseases are global threats to health that also bring shocks to economies and societies. Defence against these threats enhances our collective security."
India's dilemma
In India it is a case of double whammy, where the infectious diseases and malnutrition continue to kill and maim large number of countrymen. Simultaneously, obesity, heart disease, diabetes, cancer and other lifestyle diseases are also on the rise. While in India people are denied reasonable healthcare delivery because of the overburden of numbers, in the US and other developed countries, the problem of health system becoming unaffordable, impersonal, complicated and bureaucratic is widely rampant. With Nar sewa – Narayan sewa approach, India has come forward with medical/surgical tourism to help the ailing humanity abroad. This means helping a person in distress is akin to worship of God.
High mortality
Health indicators project the level of overall development of the communities. We can take pride in the fact that one of our states, Kerala, has outrun China, with a life expectancy of 76 (China 71) and an infant mortality rate of 10 (China 30) per 1000, with high levels of employment and women's education. But there are vast areas in Bihar, UP and Orissa where poverty and disease abound. Underprivileged individuals, living in these areas with a number of diseases, accept their situation. They grab what happiness they can, and allow high mortality to go on. We need to be careful not to lose sight of the need for early intervention.
Global initiatives
The state of global health necessitates a fundamental shift in training, education, and research. To adequately prepare our healthcare professionals, an institute of learning should be established to improve our capacity to respond to global health issues. Gates Foundation donated over $4 billion for this cause. Their portfolio includes not only the high-profile diseases like HIV, TB, and malaria, but also neglected diseases, such as hookworm, leishmaniasis, filariasis, measles, polio, guinea worm, trachoma and schistosomiasis. Additionally, The Global Fund to Fight AIDS, Tuberculosis and Malaria has committed $3 billion. The US government is also recognising the importance of funding such activities, as evidenced by the President's Emergency Plan for AIDS Relief (PEPFAR) and a recent commitment to increased support for malaria control.
Improving situation
Only 10 per cent of the expenditure on research and development globally are devoted to health issues in developing countries with 90 per cent of the disease burden. Of the $56 billion spent annually on medical research worldwide, at least 90 per cent is spent on the health needs of the richest countries, which represent a mere 10 per cent of the world's population. Only 1 pr cent of the nearly 1400 new drugs developed were devoted to tropical diseases. Clinical research is carried out on those populations that do not ultimately benefit from the research. The result is severely stunted health care in developing countries.
What can be done
Incorporate new control tools: new control tools such as bed nets, condoms, preventive drugs, and vaccines as well as health assessment instruments need to be incorporated.
Train healthcare professionals: Healthcare delivery should look more at issues that include economics, sociology, anthropology, and political science.
Augment the global health community: It has been noted that in many countries the demand of healthcare workforce is much more than the supply. Brain drain has been a perpetual problem with India.
Role of pharma industry
Its investment decisions are based on the need to maximise profits, rather than to fulfil human needs. It is necessary for the pharmaceutical industry to contribute in global health, particularly in the Third World, where up to 50 per cent of the people do not have access to even the basic drugs. The developed world has a duty to examine the ethics of the pharmaceutical industry. If there is any honesty of purpose, at least life-saving drugs should be available at cheap prices in the developing world.