Historic epistles on Kashmir
G.S. Bhargava
Jammu and Kashmir, 1949-64. Select Correspondence between Jawaharlal Nehru and Karan Singh
by Karan Singh. Penguin/Viking. Pages 374. Rs. 595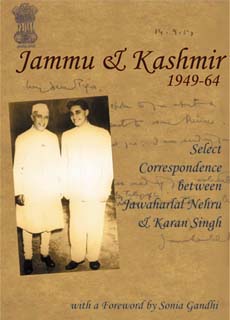 A product of Doon School and Delhi University, Karan Singh is a multifaceted scholar. He made a deep study of Hinduism, in which his proficiency in Sanskrit was naturally handy; he chose Sri Aurobindo's life and work as the subject for his doctoral thesis. I still remember a public meeting at Sapru House, New Delhi, about 50 years ages ago, I guess, at which the then Principal of his alma mater, Gurmukh Nihal Singh, felicitated him on his scholastic accomplishment. Karan Singh then held the select audience spellbound with his eloquence and erudition. His intellectual brilliance remained undimmed for the last 40 years during which I had the privilege of watching him, even when he was a Cabinet Minister in Chaudhry Charan Singh's defector government.
He became regent of Jammu and Kashmir State when he was just 18, two years after his father, Maharaja Hari Singh, signed the instrument of accession to India. Like Nehru's bunch of letters and earlier his letters to his daughter, Glimpses of World History, this correspondence is replete with history. The bulk of the letters, 216, were between Nehru and Karan Singh whom Panditji affectionately called 'Tiger', again with Karan Singh contributing more than half the number. There were also included in the appendix, a handful of letters from Karan Singh's father to and from Sardar Patel and a memorandum sent by him to the then President, Dr. Rajendra Prasad, in 1952.
The memorandum, significantly highlighted by Karan Singh in the preface to the volume, is candid, revealing and pathetic. According to Karan Singh, it is being published for the first time.
The document brings out effectively how Sheikh Abdullah adroitly pulled off a veritable coup to concentrate power in his hands with Nehru's connivance, that, despite denials by Nehru's Cabinet Ministers, disinformation was spread that Hari Singh had fled the state in the face of Pakistan- sponsored Pathan invasion and that the Maharaja had abdicated.
It also brings out in brief Abdullah's two-faced behaviour, assuring the Maharaja through personal letters of his loyalty and support and at the same time persuading Delhi to go along with his objective of being the sole repository of authority in the state. Meanwhile, Lord Mountbatten was needlessly cautioning Hari Singh that the state's accession to India was tentative and had to be endorsed by a plebiscite!
In other words, divided counsels and vacillation in action in respect of Jammu and Kashmir started in 1947-48 itself and is not a more recent phenomenon. Hari Singh's letters to and from Sardar Patel bring out categorically that the Maharaja had not abdicated and that the Union Ministry of State had fixed a privy purse for him. V.P. Menon assures Hari Singh that the Union Ministry of Information and Broadcasting had been asked to deny 'canards' of the Maharaja's abdication and that the local publicity officer would meet foreign correspondents to state the factual situation.
The memorandum continues: "I was eliminated by a process which was neither fair nor honourable. It was not and it has never been due to the will of the people. It was due entirely to the machinations of Sheikh Abdullah and his party. They got themselves appointed on the definite assurances and later, with the connivance of the Government of India systematically ignored al their legal and moral obligations and ultimately without rhyme or reason but to suit the books of Sheikh Abdullah successfully got me out of the state`85.
"During the last three years of my enforced absence from the state (the memorandum was dated August 1952 and was sent from Poona where Hari Singh was then living) I have given them (Government of India) no cause for grievance and at the most, I have been charged with delay in permitting the Yuvaraj to take action which having regard to the consideration involved and my better experience, was natural and understandable. Even in this mater ultimately I did fall in line with the Government of India.
"If the result of all this in the final stage has again to be a betrayal by the Government of India of their assurances and promises etc. and is to result not only in my final removal from the state but also of the sacrifice of the Yuvaraj whom I had entrusted to the Government of India's protection I can only say that it would be an ill return for the faith which the Yuvaraj and I placed in the Government of India`85."
The rambling apparently is an index of the writer's tension. However, the inclusion of the full memorandum in the book also indicates Karan Singh's endorsement of the contents.
Elsewhere in the book, Karan Singh complains to Nehru in a letter dated June 26, 1953 that he had not been informed that Dr. Shyama Prasad Mookerjee 'had not been keeping good health for some time' and that 'he had been informed of his illness or his removal to hospital, and most amazing of all, I only learnt of his demise several hours after the body had been flown from Srinagar and that, too, from unofficial sources."
Of course, by then the Centre had got disillusioned with Abdullah and with Rafi Ahmed Kidwai and others concerting with Bakshi Ghulam Mohammad plans were afoot to depose Abdullah. Later Karan Singh echoes charges of Begum Abdullah being in cahoots with Pakistan, which was the basis for the Kashmir Conspiracy Case.
Jawaid Alam's selection of the letters and editing of the text have been professional.