Encounter with inner spaces
Arun Gaur
Over the Edge
by Randhir Khare Rupa. Pages 288. Rs. 295.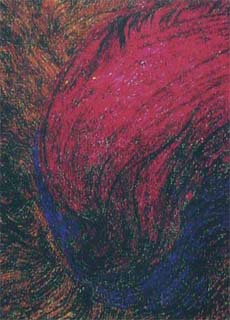 THE novel deals with three things—the process of writing, human relationship, and the unconscious. It takes up these issues on two different planes. One is the stable sequential narrative—the story of the coming of Biren, a writer, to Calcutta and his subsequent interaction with different characters; the other is that of the inner-self.
Involvement with any moment, any place and any character can be a cause enough to hurtle this writer over the edge into an apparent psychic chaos. Apart from Biren's, we have two other narrative voices—one of Zeena, the other of Ethel, Joseph's daughter. Picking up a whole range of characters and incidents, these voices carry us to the novel's end.
Zeena offers her friend Biren an undisturbed month at her flat in Calcutta. So there he was: "Alone. Trying to write again. Trying to let out all this fermented stuff inside me. Not like the way one defecates or pukes. But distilling it...into words, images. Expressing myself creatively so that I can find my voice again." However, the mission of writing is distracted because of a number of unexpected encounters with some odd characters around him: Joseph Mellow is his next-door neighbour, learned but eccentric; Father Patrick is an "angelic scum," eager to witness the final degradation of Joseph; Sherry is the wife of Baby Vienna from downstairs whom Biren impregnates; Roddy is a dealer in funeral-arrangements and calls himself a "departure expert."
Biren is overcome with self-doubt, not knowing where to start and how to start. There are many complications. Joseph's diaries take him to inner spaces of libidinous discoveries. Throughout the novel there is a strong presence of heterosexual, homosexual, and incestuous episodes. Zeena indulges in lesbian orgies to overcome a mortal horror. Further, Arjun, the Osho-man, turns sex into a ritual. Biren fears that his writings would end up in a confessional statement. His words become strangers; they spread and merge into a pool of ink.
A major portion in the novel is dedicated to the explorations of an inner dream-space. Pictorial urges in the mind construct myths: a woman cannot bear the sight of her husband being coffined as the man had claustrophobia; a tongue floats in a woman's body like a lost fish; an albatross carries the head of a drowned captain; the moon becomes responsible for change in identities from a bat to a boar to a hare. Biren is aghast: "What is happening to me? Am I going crazy? Merlin? Arthur? Aeneas? Swallower of Shadows?" He is afraid that scars may open up leading to broken hopes, despair, and loneliness.
The novel ends with a poem, perhaps optimistically suggesting that the protagonist has been able to surmount his inhibitions.
Barring some typographical errors and missing sentences, it is an absorbing work. The novelist has skilfully made use of narrative voices, shift in tenses, and sequences of image-patterns.