Return of a classic
Deepika Gurdev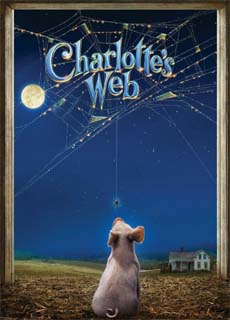 THEY say great stories never age. Charlotte's Web is a case in point. With the movie set to hit the screens near you soon, there has never been a better time to revisit the book.
The inspiration for the movie is the E.B. White classic Charlotte's Web. The book, which was first published in 1952, tells the story of a spider named Charlotte and her friendship with a pig named Wilbur.
Illustrated by Garth Williams, it has been ranked one of the best-selling children's paperbacks of all time. Recording sales of 45 million copies so far, it has been translated into 23 languages.
No surprise then that it has had two cinematic versions. The first one hit the big screen in 1973. And the second one releases mid-December this year. Such is the charm of the book that it has drawn big Hollywood names like Julia Roberts, Robert Redford, John Cleese and the queen of talk-shows—Oprah Winfrey.
Dakota Fanning brings alive the character of eight-year old Fern Arable who saves Wilbur from being slaughtered by her father.
With that she wins the hearts of all the animals in the barnyard helping unravel this lovely magical tale.
Charlotte is the spider, who spins lessons on life in her lovely little web. Take this little soul-searching that Wilbur goes through for instance:
"Well," he thought, "I've got a new friend, all right. But what a gamble friendship is! Charlotte is fierce, brutal, scheming, bloodthirsty—everything I don't like. How can I learn to like her, even though she is pretty and, of course, clever?
Wilbur was merely suffering the doubts and fears that often go with finding a new friend. In good time he was to discover that he was mistaken about Charlotte. Underneath her rather bold and cruel exterior, she had a kind heart, and she was to prove loyal and true to the very end."
The book packs several other powerful lessons like these. Lessons that have resonated with the young and old alike. So if movies drive your reading, let the big names draw you back to this charming tale of loving and caring. Flip the pages of the book, before you catch the movie.