Celebrating the Golden Gate
Twenty years after Vikram Seth's book created waves in India and abroad, Harsh A. Desai doffs his hat to the Golden Gate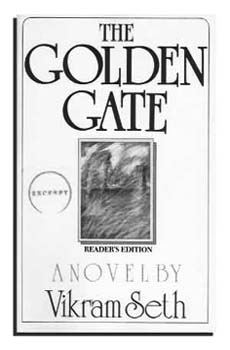 IT is 20 years since it was published and I stumbled upon it in a little corner book shop on 116th Street and Broadway in New York across Columbia University where I was a student. I picked it up, enjoyed it and enjoyed it again. It transformed my year in New York and over the years has become my desert island book—what book would you like to take to a desert island if you were to be abandoned there? The more I read it the more I enjoy it. It has remained as fresh and vibrant after 20 years, though much water has flowed below The Golden Gate, I think one of the principle reasons for that is that it is at heart a love story, albeit an unconventional one.
How beautiful it is, when waking
To find one's lover at one's side;
The delicate slow light is breaking
Irresolutely through the wide
Bay windows of their bedroom, falling
On Liz's hair, and John's recalling
How last night she untied it, how
It flowed between his hands; but now
She lies asleep, unswiftly breathing;
Her thoughts are not with him, her dreams
Traverse the solitary streams
Of inward lands, yet her hair, wreathing
The pillow in a mesh of light,
Returns to him the fugitive night.
And if we are to believe Kurt Vonnegut, we are absolute suckers for love stories and prefer love stories to any other kind of writing. Another reason why I think the book has remained fresh is that it is written in sonnets and poetry by its very nature remains fresh for a much longer time than prose. It was inspired by Alexander Pushkin's Eugene Onegin in the English translation of Charles Johnston.
Vikram Seth in The Golden Gate doffs his hat to Pushkin and calls the book sweet-watered, fluent, clear, light, blithe and describes the effervescence which like champagne filled his brain. I would use the very same words to describe The Golden Gate. Actually, I read Pushkin's Eugene Onegin after the high praise it received from Vikram and found to my surprise that The Golden Gate was certainly more accessible than Pushkin's Eugene Onegin, if not better. You too should make an effort to read it and judge for yourself. Another aspect of the book, to me, is its unabashedly hedonistic tone.
This is how an al fresco breakfast is described.
And ask Sue too "Six kinds of cereal,
Waffles and syrup, sausage, jam,
Scrambled eggs, French toast - an imperial
Repast next morning - bacon, ham,
Hot coffee, quiche, cream cheese and bagels,
Brie, fruit, banana bread - inveigles
The appetite of each potluck guest
Who at the sovereign behest
Of Mrs. Craven, organizer
Of Phil's Alfresco Breakfasts, comes
To bloat himself until he numbs
His sense and palate - and supplies her
With a like moiety to share
With old friends in the open air
And though the author in the accompanying interview denies that the book was hedonistic and actually he has a point, I think there is a loud celebration of life which may border a little on showing off and gloating about the good life in California.
Two other aspects of this book strikes me as a memorable are the description of California, particularly of the San Francisco area and the people living along San Andreas fault. The description is vivid, humorous and funny.
But in five minutes other features
Divert him: "Honk for Jesus." "I
Swerve to run over little creatures."
"The President is a lesbian spy."
"Nuke the nukes," "Fan of David Bowie"
Or "Here today - and gone to Maui,"
"I club winos," "I love L.A."
Or "Have you hugged your whale today?"
"Bartenders do it with more spirit."
"Old beach boys do it with good vibes."
John sighs, looks up. An ad describes
The Roach Motel's compelling merit:
John thinks, "That's what my life's about.
There is not only foreplay in the book but fabulous wordplay - puns alliteration and humour abound. This is how Mrs. Craven describes why the iguana Arnold Swarzneggar should be a symbol of world peace.
Besides, his species of iguana
Is just as difficult to find
In Moscow, Washington, Havana,
And Bonn: he's truly nonaligned.
A creature of herbivorous habit,
He wouldn't wish to harm a rabbit.
His bloodless vegetable love,
Vaster than empires, ought to move
Mankind to less carnivorous custom.
Lastly, he shows - he chose a spot
With olive branches - how, if not
To love our enemies, to trust 'em.
In short, in deed, thought, sign, and soul
He'd honor his symbolic role."
I can honestly say that I have never quite recovered from reading this book. All that Vikram has written since The Golden Gate has paled in comparison to this book. Whenever we have met, to his great irritation, I have insisted on discussing The Golden Gate. But for all that it is near the top of my shelf of favourite books, right next to Doanna Tartt's fabulous The Secret History.