Press and pressures
A.J. Philip
The Goenka Letters: Behind the scenes in The Indian Express
by T.J.S. George East West Books (Madras) Pvt. Ltd. Pages 239. Rs 250.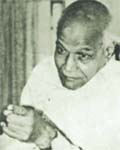 AS T.J.S. George, editor of the book, wrote pithily in his not-so-brief introduction to the book, "Ramnath Goenka was not the founder of the Indian Express. But he was overwhelmingly the Father of the Express".
The letters published in the volume were selected from nine boxes of Goenka's letters, Manoj Kumar Sonthalia, chairman and managing director of The New Indian Express, inherited following the partition of the Goenka estate in 1995. George, who is remembered as much for the thunderous editorial he wrote against then Bihar Chief Minister Krishna Vallabh Sahay that landed him in jail as for his knack for writing biographies, provides an excellent backdrop for many of the letters through his introduction.
George provides biographical details of Goenka and the Express. Thus one knows that it was through an act that would redound to the credit of a Shylock that Goenka got hold of the property called the Indian Express from a newspaper baron of the time, S. Sadanand, who set up the first indigenous news agency.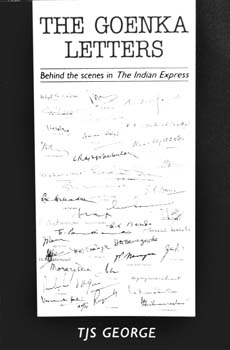 The intrepid Marwari from Darbhanga, who made his killing in Calcutta and later Madras, brought vigour and dynamism to the Express, almost instantly increasing its circulation and eventually making it the first multi-edition paper with an all-India reach. Goenka's fighting abilities are well known, particularly the dogged fight he had with Indira Gandhi when she was at the zenith of her career.
The 135 letters published in this volume provide an insight into the multi-dimensional personality that Goenka was. He had a variety of interests, apart from journalism, politics and making money. But to form a definite opinion about the man from this assortment of letters is a risky proposition because he was essentially a bundle of contradictions.
Goenka had little difficulty in turning down the recommendation of former Congress president S. Nijalingappa for a lady graduate with postgraduate diploma in journalism from the Indian Institute of Mass Communication seeking job as a sub-editor (trainee) because she "does not answer our requirements". Equally firmly he told him that a room in his guesthouse would not be available to him unless he made advance reservation.
If the correspondence between the two gives the impression that Goenka did not like "recommendations", it is removed when we read the letter he wrote to Birla seeking admission for an acquaintance in Birla Institute of Technology, Pilani, only to be told by the Institute that the candidate in question did not have 50 per cent marks and could not even be considered for admission.
Worse, he even sent a letter to S. Mulgaonkar, who was then editor of The Hindustan Times, recommending a book-review for publication in HT's Sunday Magazine.
Goenka was a master in converting personal battles into political and even ideological battles. Thus an inquiry into a questionable business deal he entered into became an attack on the freedom of the Press. When The Hindu began publishing facsimile editions from various centres in the South, he questioned it on the ground that the new technology deprived hundreds of potential employees of their "jobs". From this one should not jump to conclusions that he hated technology.
Goenka was on first name terms with many leading politicians of the country, who sought his favours. There were others like musician M.S. Subbulakshmi's husband addressing him as "Kadavule" (God). A letter from Chandraswamy, accused of many heinous crimes, tells him how happy he was to be the first Indian Swami to be invited by US President Jimmy Carter for a breakfast meeting. The controversial Swamy also offers Goenka hospitality should he visit the US.
At a time when getting foreign exchange is as easy as going to a neighbourhood ATM, the letters Goenka had to write to the Reserve Bank to get foreign exchange worth Rs 250 and the guarantees he had to give would be an eye-opener to the kind of system that existed in the country until recently.
Goenka's gesture of sending a bunch of flowers taken out after a nine-day puja by a Swami to JP's secretary so that he could make a paste of it and apply on JP's forehead shows he was deeply religious in his personal life but very rational when it came to financial investments. In a letter to G.D. Birla, he advises him to set up a Venkateswara temple at Mavoor in Kerala because it would bring him prosperity.
Goenka knew how to fix people. To a wire-service journalist who tried to impress him by boasting, "I own a car and my living is high and I hope you will fix my grade accordingly", he offered him a position on Rs 500 month "in all". He dismissed cook Chacko because he did not know how to cook.
The imposition of the Emergency was a turning point for Goenka, who found the government going hammer and tongs at the Express group. There was an ignoble plan to take over the group by foisting government nominees on its Board. He fought against the plan with all the power at his disposal verily proving that adversities bring out the best in a man. The correspondence he had on the subject is a well of information.
The book provides vignettes of a period when journalism underwent a metamorphosis and Indian democracy came under stresses and strains. Goenka played no small a role in both as a publisher and opinion maker. An index and a list of the letters would have added to the worth of the book.