INTERVIEW
ĎAuthors do not write with the audience in mindí
Vikram Seth, in a telephonic interview from London, talks to Harsh A. Desai about the process behind the writing of his first novel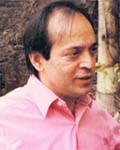 How did The Golden Gate happen?
I was doing my Ph.D. at Stanford in economics. After putting in an allnighter I went to a bookshop in the morning and stumbled upon Eugene Onegin by Alexander Pushkin in the luminous translation of Charles Johnston. I knew immediately that I had to take a break from my Ph.D thesis and try writing some poetry.
Twenty years after writing it, what are your thoughts about it?
Actually, had you not told me it was 20 years I would not have remembered.
The book is in unabashedly hedonistic apart from the slight nuclear aside as also Edís compunctions based on Christianity. There is revelling in the good things of life. Would you agree?
This is only partly true. The nuclear issue is central to the book as is the fact that there is consciousness of death which is writ large on the book as one of the main characters dies.
When Phil and Ed are making love before a description, the official censor comes and the description is halted and there is no real description. Did you do that because you thought that the audience was not ready for it?
Authors do not write with the audience in mind; they want to push ahead with the story. It was a good line so I used it. I did not describe John and Lizís love making also explicitly.
In the dedication you mention the gentle hands of Steele and also Tim. Who is Steele and Tim and are they one and the same person?
Timothy Steele is an American poet, now based in Los Angeles . At that time he was teaching at Stanford. I learnt a lot about the art and craft of poetry from Timothy. He has had a great influence on me.
Would you have still named the iguana Arnold Swazzneggar? Today may be you would have called him George Bush though admittedly he has lost some muscle after the mid-term elections?
Next question.
Is there a sequel in the works? How can you leave John in the lurch?
I am hoping that some day I will be able to do something with the characters of The Golden Gate as also with the characters of A Suitable Boy but nothing is in the works yet.
The book reminds me of an Andy Warhol painting in its contemporary references. Any comment?
Not necessarily. All authors make contemporary references, even Dickens makes references to the London of his time.
Some will say that in your book cats are loved more than humans. There is Charlemagne. Of course and Cuff and link. Whatís this with you and cats?
I have never owned a cat but have an affinity to both cats and dogs. May be I was a cat in my last birth.
Towards the end Vikram mentioned that as a rule he never gives interviews. Not even as an exception. He spoke to me as a one off because I had pestered him for an interview all these years.