food talk
Chill out with chillies
Preparing this Rajasthani delicacy requires just the right amount of batter, says Pushpesh Pant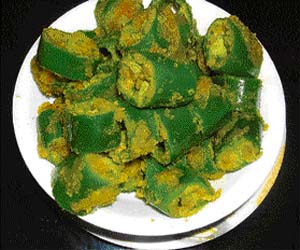 IS it only the parrots that make a meal of hari mirchi? If your answer is in the affirmative guess again; there are people who make a subzi out of the pungent princess that scholars tells us was imported in the sub-continent by the Portuguese.
The word marich that has spawned mirch, we are told, refers to peppercorn now called kali mirch and pipali. How has the import displaced indigenous. Nowadays, mirch means hari mirch any other kind is described with a prefix - laal, peeli, Kashmir.
It used to be handed out free by the vegetable vendors till spiralling costs made it a to be purchased separately item. Who can do without it? It can be the sole accompaniment (with salt) for the poorest of the poor, and the epicurean princes too cannot do without it.
We have had finely sliced verdant hot stuff coupled with equally delicate looking pyaz laced with achari masalai or just tempered with mustard seeds and curry leaves.


besani mirchi
Ingredients
Green chillies (thick pickle variety) 250 gm
Besan 100 gm
Zeera powder 1 tsp
Amchoor 1 tsp
Haldi powder ¼ tsp
Oil 3 tbsp
Lemon juice 1 tsp
Salt to taste
Method
Wash and wipe dry the chillies. Cut into thin rounds. Remove the pith. Heat oil in a large shallow pan and when hot add the powdered spices dissolved in a tbsp of water to avoid burning. Stir briskly continuously to avoid lumps and over-cooking. Now, pour the besan steadily. Stir-fry till besan releases its cooked aroma. Add the chillies and reduce the flame cook for about two minutes sprinkling a little water if needed. Sprinkle the lemon juice and mix well just before serving.
And, sambariya, normally the stuffed capsicum, has been tried with regular chillies too. The Hyderabadis like to stuff red chillies with kheema but it was left to a blue-blooded Rajasthani to leave us speechless with her rendering of besani mirchi.
Gayatri Rathore hails from the city of Jodhpur that boasts of more than 100 varieties of mirchi bada. Gayatri is based in Delhi and has recently done a festival of Rajput delicacies in the Capital. She makes cooking look so simple that one is tempted to try her entire resplendent repertoire at home.
But who hasn't heard the wise dictum, 'looks can be deceptive'. Leave aside the dazzling laal maans and the outstanding chaulai ka saag she served us, her besani mirchi is not as easy to replicate as the recipe may indicate.
If you are not careful, one or all of several calamities may ruin the dish. Besan should not be more than just what is required - enough for a crumbly, frugal filling and to provide the contrast to the crunchy mirchi - otherwise it can decline to the common pakora batter; the besan has to be fried very carefully otherwise it may burn or darken to an ugly blackish brown not remain golden; finally the mirchi should show off a glowing sheen and keep its bite intact.
At the same time, the chillies should have a cooked, not kaccha taste.
We write this not to deter you but just to ensure that you have as much enjoyment with this recipe as we had with the original.
Also resist the temptation to spice up besan - the pleasant pungency should be allowed to play upon the palate. The accompanists should not dominate or upstage the soloist.