Made for maharajas
A look at the splendour of royal life by Amin Jaffer



Maharaja Bhupinder Singh of Patiala by Vandyk, 1931. The Maharaja was fond of decorations, as is evident from the profusion of medals on his chest. In addition to those awarded him, he purchased badges and medals from Spink and Son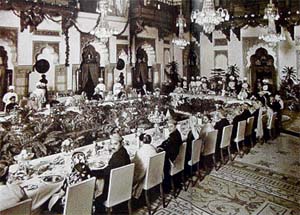 Banquet held in the Durbar Hall, Laxmi Vilas Palace, Baroda, on the occasion of a state visit of Maharaja Ganga Singh of Bikaner, 1934. In a speech of 1933, Gaekwar Sayajirao III declared that 'There is, perhaps, no finer room in India'
THE types of western objects that excited the imperial imagination included not only paintings, sculpture, musical instruments, weapons and exotic animals, but also examples of European clothing.
* * *
Indian princes demonstrated a keen interest in European things, which they collected and prized in precisely the same way that rare and wondrous objects from Asia were in the West.
* * *
Indian princes allied to the various Western trading companies showed a taste for western goods that reflected their political loyalties. On a practical level too, Indian elites who negotiated and fraternised with Europeans eventually began to adopt aspects of western lifestyle and behaiour, such as sitting on a chair instead of on textiles on the ground.
* * *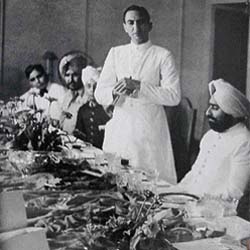 Maharaja Pratap Singh of Nabha seated at a table set with the Minton dinner service ordered by his father, c. 1942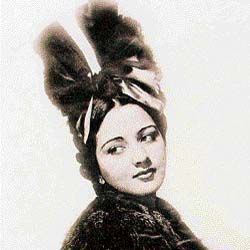 Rani Sita Devi of Kapurthala, c. 1935. In her day the princess was considered one of the best dressed women in the world. In this photograph she wears the dramatic Tangerine Velvet headdress by the renowned firm of Reboux and a silver fox coat designed by Mainbocher, the American couturier who created the wedding dress worn by Wallis Simpson at her 1937 marriage to the Duke of Windsor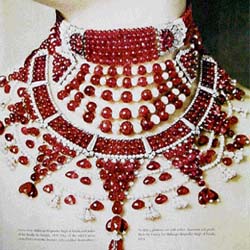 Necklace, platinum set with rubies, diamonds and pearls. Made by Cartier for Maharaja Bhupinder Singh of Patiala, 1928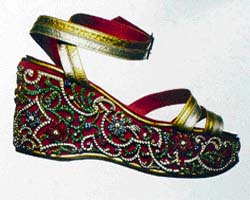 Sandal, leather with multicoloured beads. Made by Ferragamo for Maharani Indira Devi of Cooch Behar, 1938. In his memoirs, Salvatore Ferragamo recalled extraordinary commissions from the maharani, among them a pair of shoes in green velvet encrusted with pearls and a pair in black velvet set with diamonds
As subject peoples in an imperial system there was no greater honour for an Indian prince than to meet his ruler. For formal events such as presentation at court, Indians were instructed to wear 'proper Durbar dress' complete with national or tribal headgear. It was in romantic Oriental garb that Queen Victoria and her successors wanted to view the exotic peoples of the Empire. As surviving negatives from London's fashionable photographic studio Lafayette show, Indians routinely called in on the way to court in order to be photographed on the day they met the sovereign.
* * *
Whether buying mirrors in Venice, porcelain in Dresden or jewellery in Paris, shopping was an indispensable part of a European tour. For first time visitors, it was essential on arrival to acquire western-style clothes. The colourful apparel of Indian princes aroused attention, and the sooner they adopted full western dress, the sooner they were able to appear inconspicuous during their travels. So outlandish was his dress considered, that while sitting on a bench in the Musee Grevin in Paris, a courtier trave lling with Jagatjit Singh of Kapurthala was mistaken for one of the museum's waxwork figures! Indian women too sometimes adopted western clothes when traveling in Europe, as did Rani Kanari, wife of of Jagatjit Singh of Kapurthala, and Chimnabai, wife of Sayaji Rao III of Baroda.
The social round in London also necessitated particular type of dress, such as an evening suit and top hat, both of which could be acquired by outfitters in and around Savile Row. For westernised princes, visits to Europe provided an opportunity to order clothes and update their wardrobes with the latest fashions. Western clothes, shoes and handbags, were also becoming an indispensable part of a royal bride's trousseau and visits to Europe provided an opportunity to choose the latest creation from leading fashion houses. Sayaji Rao III was so regular a client of Henry Poole & Co., that he awarded the company a royal warrant.
* * *
While in Europe, rulers enjoyed for the first time freedom from the constraints of court scrutiny. The West also offered them celebrity status; maharajas and their wives appeared in social columns in newspapers, and on the front of fashionable magazines. Some figures, like the dashing Aly Khan, the amusing Brinda Devi of Kapurthala (for whom Cole Porter wrote Let's Misbehave) and the captivating Maharani Indira Devi of Cooch Behar were leading figures in the beau monde. Mrs Evelyn Walsh recalls the impression created by Indira Devi in the casino at Le Touquet in the 1920s:
...the most fabulously beautiful young Indian lady, holding the longest cigarette holder I had ever seen, wearing a brilliant silk sari and covered with pearls, emeralds and rubies. She was quite poker-faced but had a pile of chips in front of her to testify to her success and to top it all she had a live turtle, whose back was laded with three strips of emeralds, diamonds, and rubies and which she was using as a talisman. Every now and then the creature would crawl across the table but every time she caught it back. The crowd was totally mesmerised by her.
* * *
The change in the circumstances of maharajas over the past sixty years has brought about the dispersal of many princely collections. The fabulous jewels commissioned with aplomb in days of grandeur have been largely sold piecemeal at international auctions, or are in hiding, away from the attention of tax officials. The palaces built on a vast scale are now chiefly hotels or museums and their contents, paintings, libraries and chandeliers, cars and works of art have in some cases been sold to pay for expenses or to settle family disputes over inheritance.
Still, the romance of princely Indian exists, evident, for instance, in the mesmerising display arranged by Cartier in 2002 of the reconstructed Patiala diamond necklace. Although set with cubic zirconium, this tour de force of jewellery, and the glamorous story behind it, captivated western audiences and brought to the fore the myth of the maharaja and the appeal of the age gone by.

Excerpted with permission from Made for Maharajas: A Design Diary of Princely India
by Amin Jaffer. Lustre Press/Roli Books. Pages 272. Rs 4,500