A cool getaway
Subathuís moderate climate, calmness and cleanliness makes it a haven for nature lovers,
writes Madan Gupta Spatu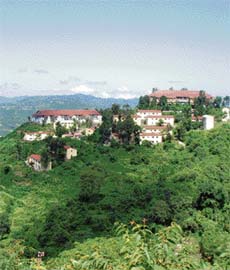 IF you are fed up with visiting Kasauli, Shimla, Manali, Chail and are in search of a picturesque holiday spot, then Subathu, a 120-minute drive from Chandigarh, should be your destination.
This little hamlet, on the banks of the Gambher rivulet, is a haven for those who wish to escape the humdrum of city life. A detour of 15 km from Dharampur on the Kalka-Shimla national highway takes you to Subathu, 4500 ft high
Subathu is believed to have been in existence since the times of the Pandavas. The place is said to be named after King Subahu, a mythological character in The Mahabharata. It has been a cantonment since 1815 after it was captured from the Gurkhas by the British. The, then, Viceroy too stayed here in the Vice Regal Lodge much before Shimla was discovered by Captain Kennedy operating from here.
Since 1960, it has been housing 14-Gorkha Training Centre. It beats most of the scenic spots of Shimla in terms of beauty, moderate climate, calmness and cleanliness. One can stroll along the Cheel Chakkar road, Solan road or wander along the Gambher rivulet (10 km from the town on the Shimla road).
You can stay overnight in the hotel constructed on its riverbed. One can also visit a local temple and a picturesque Iron Bridge popularly known as Lohey ka Pul. You get to see twinkling lights of Shimla , Kasauli, Dagshai, Kunihar etc apart from snow clad tops of hills. Merrymakers may take bath in the rivulet, enjoy fishing, sports lovers opt for trekking, rallyists select the route for the race. It is a hill station sans the crowd due to its lesser-known features and paraphernalia strewn by tourists.
Home to Dada Sahab Phalke award winner Devika Rani in the 1940s, the spot saw the making of Ivory Merchantís Shakespearwalla here.
Subathu can be visited in any season because of its moderate climate and proximity to the plains.
It is a valley of fruits and vegetables, which are transported to the plains. One can attend the three-day annual Ghugga Fair in September and Dasehra celebrations in Gurkha style.