So, what's news?
Television news channels are giving long slots to crime and glamour to increase their TRPs,
says Randeep Wadehra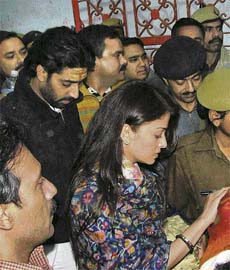 The appearance of Aishwarya and Abhishek at the Sankat Mochan temple at Varanasi hogged a lot of news space recently
Certain images keep gnawing at your grey cells. Like that of Prince at the bottom of a 48 or 60 feet — depending on the news channel one was watching — deep pit. Was it really worth the airtime it got? Pushing back all other stories this one became a primetime national tamasha. If it was a one-off diversion perhaps one could be indulgent enough. But one realises that newsworthiness has undergone a serious makeover.
There was a time when politicians, especially the ones in power, got the top headline treatment. Of course, those were only DD days. Whatever inanity they uttered or indulged in got top billing. Whether it was a minor cultural do or a major sports event, netaji had lion's share of the coverage. And we know that our politicians love the limelight. Thanks to the media overkill and the falling ethical and intellectual standards of our leaders, political shenanigans are not really of great TRP value. The acts of politicians neither shock nor amuse the viewers.
Yes, the likes of Manmohan Singh get respectful media attention for the simple reason that honesty is such a rarity in the political fraternity that it has become newsworthy for its curio value. Overall, however, the politician is getting pushed off the centrestage by more glamorous subjects. The recent Pawar episode, odious though it was, is perhaps symbolic of the changing times.
Sportspersons, especially cricketers, are darlings of our news channels. So Dhoni's cricketing feats get overshadowed by his off-the-field activities — his hairstyles, his singing, modelling and motorbikes make the tele-reporters go gaga. And he is not the only one. Harbhajan got into trouble for letting his hair down — the issue was discussed threadbare by all news channels as if our economy has gone into convulsions.
Talking of our economy, how much of development news gets primetime attention? Such stories are either ignored or relegated to insignificant slots. Agriculture gets attention only when farmers resort to suicides. Other sectors of our economy get scant attention barring some feel-good stuff like acquisitions of foreign companies by the Indian ones. Of course, there are slots for share markets, but what is happening in the vast rural hinterlands? The average viewer remains in the dark.
Another field that remains vastly ignored is international affairs. The NDTV did start one talk show on this subject, but it disappeared without a whimper. One has hardly come across a single informed discussion on India's strategic environment, the threats and opportunities awaiting its commercial activities and interests abroad, or even a serious discussion on cashing in on our vast human resources in the growing global economy. It is strange that most of the channels — be they IBN, NDTV, Aaj Tak or Star News begin their international stories with Pakistan and end it with China. And we are told that India is an emerging global power.
So what's news? Crime and glamour of course. Every news channel has rather longish slots for crime, viz., Zee News has Crime Reporter, Star News Sansani and others similarly named shows. Crime sells. So Priyadarshini Mattoo, Jessica Lal, Naina Sahni, Nitish Katara etc have had longish runs on the small screen. What if crime mingles with glamour? The news editors begin salivating copiously.
Witness the Salman Khan episodes — relating to manslaughter by car and killing of black bucks. Channels went into overdrive, reporting every minor detail of the Khan's short stay in the lock-up. And now they are having a field day with the Rahul Mahajan-Shweta Singh marital problems.
The latest trend is promoting movies on television. We saw how NDTV went to town with Kabhi Alvida Na Kehna and Don. Umrao Jaan was there on all channels and Dhoom 2 has featured in Aaj Tak's special programmes.
Unfortunately, these unpaid promos have wiped out all chances of serious critical assessment of a movie's merits and demerits. But then who cares if the moolah is right?
Glamour of the filmy variety has skewed all news-related parameters. We see Aishwarya Rai talking of her Umrao Jaan role even after the flick got thumbs-down from the box-office.
Again we had 'news analysis' of her culpability in the Euro parcel scandal. And then, we have Dr Amitabh Bachchan popping up on all news channels almost simultaneously — be it him interviewing — hold your breath – sonny Abhishek, or holding forth on his role as Gabbar Singh in the Sholay remake or contradicting Amar Singh's 'threat' of his re-entry into politics. News channels consider all acts of Dr B worth highlighting — whether he turns music composer, burps or breaks wind.
Talking of the last, Hollywoodians can really raise stink. The Angelina Jolie Brad Pittt duo was having a ball during their shooting stint in India until her bodyguards and over-zealous 'fans' spoilt it all. Somebody forgot to tell them that it is bad manners to rough up and abuse one's hosts. But, true to the great Indian tradition, we had Barkha Dutt coming to Brad Pittt's rescue by allowing him to tell us how he and his guards were not racists, with Irrfan dutifully nodding his head and vouching for Pitt's liberal worldview and his innocence in the 'bloody Indians' fracas. This was barely tolerable, but to repeat the interview several times a day everyday for days together? The pits, right?