It flatters to deceive
Ervell E. Menezes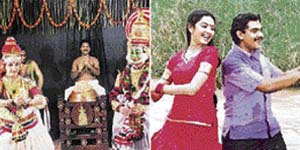 There are some dramatic moments in Shashi Paravoor's Nottam
Malayalam cinema has earned for itself a great reputation in the last three decades, what with stalwarts like G. Aravindan, Adoor Gopalakrishnan and Shaji Karun. But Shashi Paravoor's Nottam is not in the same league as the classics made by those Malayalam maestros.
The action is centred on Koodiyatam artiste Chapyar who is an institution in his state but when his son Vishnu brings his America-returned friend Aby to arrange a United States tour for Chapyar and his troupe one sees the various cross-currents coming into play. Uni, a liquor-loving fellow artiste, is very close to Chapyar but it is a chequered relationship between the two.
Another point made by director Shashi Paravoor is that though the locals are inclined to forget the art form, it is foreigners who are keen on learning it. It is a good subject but Shashi gets too involved in it, with the result he tends to lose his objectivity. The opening shot of the tabla solo is impressive and so are the outdoors caressingly photographed by K.G. Jayan.
What Shashi seems to forget is that brevity is the soul of wit and he leaves little to the imagination of the viewer. There is a touching relationship between Chapyar and Saraswati, who remains a spinster and the line "when the costumes are shed, we fly away in two boats." But these subtle niceties are drowned in a verbose script which goes into endless detail. Some things left unsaid speak louder than words, but Shashi doesn't even think of that. Saraswati and Chapyar's wife at first have a sort of strained relationship but when the Koodiyatam artiste falls seriously ill they overcome their differences. It is a sequence that is sensitively captured.
There are some dramatic moments and at times the narrative does a tight-rope walk and it is also imbued with some excellent touches of humour for dramatic relief but its inordinate length is surely its undoing. In fact it takes all of 120 minutes and towards the end one even feels claustrophobic because of the never-ending narrative, but the actors do a good job and the ambience is well captured. It is very natural (there was no literature available on the first day of screening) but it flatters only to deceive. It could safely have been clipped of at least 30 minutes.