More film fests with Indian flavour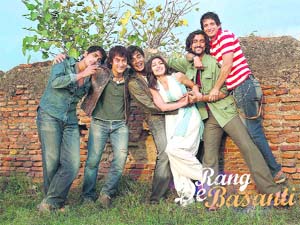 From Pusan to Lyons, and from Singapore to Florence and Dubai, Indian films are increasingly hitting the screens of festivals across the globe. Opportunities are on the rise and talent from India is valued.
Besides domestic festivals, Indian filmmaking talent is trying its hand across the globe, according to the journal Film India Worldwide. Published by the Confederation of Indian Industry, it says it seeks to "celebrate the diversity-within-unity of cinema".
Festivals that see a significant Indian participation include the South Asian International Film Festival in Manhattan, New York City.
Three Bollywood films Rang De Basanti, Omkara and Lage Raho Munnabhai will vie for nominations for the best foreign films at the 64th Annual Golden Globe Awards. The nominations will be announced on December 14.
"There is a lot of buzz about Bollywood in Hollywood and members of the foreign press are all looking forward to the screenings of Rang De Basanti, Omkara and Lage Raho Munna Bhai", said Sheeraz Hasan, founder of www.hollywood.tv, in a statement.
"People in Hollywood are eager to watch more Bollywood movies, and this year I'm sure we will see Hollywood honour Bollywood." — IANS
Indian films have also participated in the Pusan International Film Festival in October, the Lyon Asian Film Festival in November, and the Sixth International IAAC Film Festival in New York also in November, organised by The Indo-American Arts Council Inc (IAAC).
Singapore held its second Asian Festival of First Films, giving Indian documentary participation a further chance. The Third Dubai International Film Festival is being held from December 10-17.
Mid- December, Italy will host the River-to-River Florence Indian Film Festival, which calls itself "the first festival in the world entirely devoted to films from and about India".
This fest is also now open to South Asian films from Bangladesh, Nepal, Pakistan and Sri Lanka. Such openings are particularly crucial to the documentary film segment, a field where Indian talent is really showing up of late. But the lack of screening opportunities at home has forced the sector to depend more on the international festival circuit.
Uma da Cunha, editor of Film India Worldwide, has argued that India has been seeing "an outpouring of talent, new as well as established, working in genres that extend from the uniquely popular Indian 'filmi' style to the art house and the unconventional". — IANS