Nature
Return of the TIGER
Anil Sharma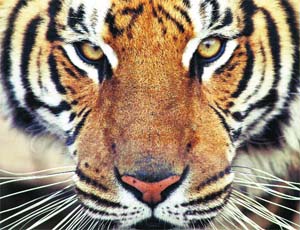 Sariska, India's premier tiger reserve from where big cats have disappeared, is poised to see their return.
The Rajasthan Government has readied a detailed plan involving the transfer of tigers from other sanctuaries and shifting out villagers in the vicinity.
According to the action plan, the Wildlife Institute of India (WII) is to bring to Sariska three tigers from the Ranthambhore National Park near Sawai Madhopur in the state or the Panna reserve in neighbouring Madhya Pradesh.
A four-year-old to five-year-old tiger and two tigresses of three to four years of age will be brought to repopulate the Sariska reserve.
"We plan to carry out rehabilitation work under which three tigers will be brought to Sariska. The project is slated to be completed by 2011," Rajasthan Forest Minister L.N. Dave said.
This follows reports about the mysterious disappearance of tigers at Sariska, 105 km from here.
According to a census in 2004, there were 16 to 18 tigers in the reserve.
But a WII report of March 2005 confirmed Sariska had no tigers.
In order to provide the tigers a completely natural habitat, the government plans to shift out villagers living inside the Sariska reserve.
"We plan to relocate in all 15 villages situated inside the reserve," Dave said.
The government has identified 22,267 hectares in Nangal Rundh village near Behror in Alwar district for resettling the villagers.
"In the first phase we plan to shift Kakvadi and Baghani villages to an area near Behror on the Jaipur-Delhi highway," the minister said.
As many as 130 families in Kakvadi and Baghani villages, who earn their livelihood from cattle rearing, are likely to be shifted over the next three months.
Each family is expected to be offered a compensation package of two hectares of land, a constructed house and Rs 1,00,000.
Also, a road passing through the reserve was proving to be a hindrance to rehabilitating tigers. The government plans to divert vehicular traffic to a new road.
"After the villagers' relocation and road building, we propose to undertake the project to rehabilitate and conserve tigers," he said.
Forest Department officials say the plan is expected to cost Rs.57 million, of which Rs 46 million will be spent on rehabilitation of tigers. The relocation of the villages will cost another Rs 125 million.
Sariska, spread over 866 sq km, was originally a hunting preserve of the erstwhile royal family of Alwar. It was declared a wildlife reserve in 1955 and a tiger reserve in 1978.
Some of the wildlife found there includes the leopard, jungle cat, hyena, wild boar, jackal, chital, sambar and langur besides several species of birds. — IANS