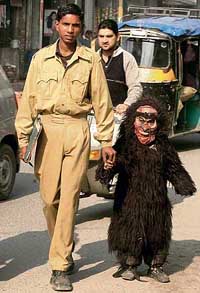 It is that part of the year when Chrysanthemums are in bloom. The crowning glory of lawns, terrace gardens flower in white, golden yellow and maroon hue are immensely popular in the city. There are very few houses in the city which do not have chrysantemums. Chrysanthemum has, in fact, beaten rose quite well in popularity chart in the city.
Cricket mania
Indian cricket team may be losing badly in South Africa but the charm of the game has not wilted. Even though there is not much open space in the city for the cricketers to play, children and youngsters are making use of streets, parking lots, market corridors to show their talent. The Sarabha Nagar, Block-I market is one such place. Though shopkeepers of the market oppose the use of the place, the cops seem to be turning a blind eye because of their love of a game.
Hosiery glut
With the mercury dipping to an all time low in the region hosiery manufacturers are a happy lot. And why not? Whatever they manufacture throughout the year finds sellers during this time only. There seems to be a glut of hosiery goods as the city is witnessing sales all over.
Posters
The election season is on. And the city is feeling the heat with huge posters put up all around. There is no space which has been left by the overzealous leaders. Be it Akalis or Congress nobody wants to trail behind each other. One wonders if the High Court orders on these bill boards would ever be implemented or not.
Weather blues
Weather can have its impact on development projects also. All road recarpeting projects in the city are set to be delayed as a thin layer of mist settles on the road. It damages the newly laid road besides delaying the laying of premix as it requires a lot of time to dry up. Though this seems the right reason residents argued that the region witnesses similar weather every year and why cannot the civic body finish the work before hand.
Traffic lights
Synchronised traffic lights at various points are proving to be a bane for the commuters. The traffic lights programmed to change after 15 seconds do not give time for the queued up traffic to pass. This causes accumulation of the vehicles which gives form to major traffic jams. The Bharat Nagar chowk and the Bhai Bala Chowk have become the major traffic irritant points due to the traffic lights.
Say no to heaters
Say no to heaters and hot air blowers this winter. This is an advice by none other than some practicising doctors who claim that by depending on these electrical gadgets people are affecting their immunity. They say due to a big gap in indoor and outdoor temperatures the residents were prone to catching cold and many other diseases. So when you plan to switch on your blower next time, think again.
Christmas fever
Christmas is 15 days away but the fervour has already started catching up. City residents have already started decorating their houses with Christmas knick knacks available in the market. Some of them have already decked up Christmas trees. The markets are also coming alive to the spirit of the festival.
Changing home decor
Winters are not only proving a boon for those in hosiery, electricals but even for home decor items. Lavish at spending, city residents are busy giving a warm look to their homes. And market has plenty to offer, right from Indian and imported carpets to items like curtains, bedsheets and even lighting. As a showroom owner puts it, people here look for opportunity to spend, earlier it was summers, now it is winters.
No to brands
International players might keep claiming of profits they book due to city residents' love for branded garments. However, when it comes to hosiery, heavy customer turnout in old bazaars and at factory outlets of local manufactures portray a different picture. A large number of residents prefer buying things made in Ludhiana for they manage to get good bargains here.
Always on rise
Decline in petrol and diesel rates failed to make people happy as little impact of the same was seen on other goods. Residents, who were happy at the announcement regarding reduction in fuel rates, not only termed the decline as pre election strategy but also rued that no decline in prices of other commodities took place. The minor decline in fuel rates, hence, did them little benefit.
Busy in functions
If one terms many city schools as hyper on activity it would not be an exaggeration. For, in a bid to getting publicity, they do not miss a chance to celebrating any occasion whether it has a connection with kids or no. While these include occasions like Valentines Day and Karva Chauth that even a few nursery schools have begun celebrating the latest trend is celebrating an occasion much in advance. Hence, Christmas celebrations have already begun, if not elsewhere then in schools atleast.
Marriage advice
Music bands are in great demand in this marriage season. The bands would prefer many more marriages for earning more. However. one such bandowner was spotted advicing people on marriage without caring for his business. He had painted slogans, '' Shaadi ik wari hi karni chahidi hai '' (one should marry only once) , showing his respect for the relationship.
Tail Piece
A worn out auto-rickshaw, which was better condemned than plying on the road was emitting poisionous smoke oblivious of the slogan written on its front and rear, "O jandi morni"
— Sentinel