Maoists hijack train
Flee with Rs 1 lakh after two hours
Ambarish Dutta
Tribune News Service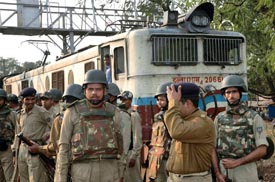 District police along with railway police personnel assess the situation after a passenger train was hijacked by Maoists from Chakula station near Singhbum district in Jharkhand on Sunday.— PTI photo

Patna, December 10
At least 20 armed Maoist rebels hijacked the T246 down Tatanagar-Kharagpur passenger train near the West Bengal-Jharkhand border around 10:30 am today.

The incident occurred in a dense forest area between Gidni and Chakulia stations, 76 km from Howrah, near the naxalite-affected West Midnapore district, close to Jharkhand.

Reports reaching here from South Eastern Railway said before hijacking the train, Maoists boarded the Tatanagar-Kharagpur train as passengers and snatched two rifles from RPF jawans and a walkie-talkie set from the driver.

They then informed the Chakukulia station master about the incident.

Despite the threat posed by Maoists in the area and repeated assurances by railway officials to deploy adequate RPF jawans in trains, only two RPF jawans were guarding the train.

Before leaving the train after nearly two hours by fleeing into jungles nearby, they took away Rs 1 lakh, which was being transported as salary of railway staff.

Reports said one RPF jawan was beaten up by the attackers. There were no reports of any other casualty so far.

Maoists threatened to blow up the train if passengers raised a hue and cry.

South Eastern Railway CPRO Debashis Chandra said train services remained disrupted for nearly four hours and normalcy was resumed around 2:15 pm after inspection of tracks.

East Sinbhum SP S.P. Burnwal said the tracks were searched before resuming normal movement because of threats by Maoists to plant bombs there.

Jamshedpur railway SP Priya Dube reached the spot with a huge police force after the report of the hijacking of the train reached the police headquarters.

Jharkhand chief minister Madhu Koda, in a report submitted to the Union home minister Shivraj Patil a few days back, demanded 13 companies of paramilitary forces to combat the growing naxalite threat in the state.

There were 22 companies of forces deployed in Jharkhand. Eighteen of the 22 districts in Jharkhand were under the grip of Maoists.

Former chief minister Arjun Munda charged the Koda government with failing to tackle the naxalite issue.

West Midnapore and East Midnapore districts of West Bengal were known for Maoist menace.

West Bengal, Jharkhand and Bihar were among the seven states under the proposed red corridor zone of Maoists, stretching from Andhra Pradesh to areas in Bihar bordering Nepal.

A landmine blast by Maoists at Bokaro on December 2 killed 13 security force personnel. A train hijack by Maoists was reported last year on the Adra-Chkaradharpur section of the South Eastern Railway in Jharkhand when Maoists had seized the train for about 12 hours.