Verdict unbelievable, says Ramani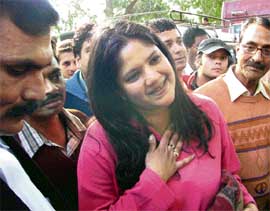 Mala a close friend of Sabrina and Jessica Lall, thanks the media after the verdict in the Jessica Lall murder case at Delhi High Court in New Delhi on Monday. — Tribune photo: Rajeev Tyagi
Panaji, December 18
Ms Bina Ramani, a key witness in the Jessica Lall murder case, today described the conviction of Manu Sharma as the culmination of an over-seven-year-long struggle for justice and said it felt unbelievable.
She also sought a witness protection programme in the country.
"It is unbelievable. It is great", an emotional Ms Ramani told reporters here.
Almost breaking into tears, the socialite, at whose restaurant, Tamarind Court in Mehrauli in Delhi, the crime occurred, recalled the last moments of Lall as she was being taken to the hospital after being shot by Sharma.
"She was in the back seat of my car. There were two waiters holding her. She was breathing so loud, fighting for her life", she said in a choking voice.
"She was breathing hard for life and I was watching her slip away. I could not see her so helpless", she said.
Terming the last seven-and-a-half years a struggle for justice, Ms Ramani said, "Finally, a whole new life is to begin".
She said she would devote herself more actively to social service now.
Ms Ramani also stressed on the need to put in place a witness protection programme, recalling the tremendous pressure she underwent, as did the other witnesses in the case.
"There should be strong protection for witnesses and I will be at the forefront to create some kind of platform", Ms Ramani said at her Goa residence minutes after the verdict was pronounced by the Delhi High Court.
"There will be no Zaheera Sheikhs and Shayan Munshis if we have more protection for witnesses", she said.
"It is a whole new life for me. Finally, the truth has come out", said 63-year-old Ramani, who had to spend nine days in jail in September after being arrested for obtaining a licence to run a restaurant on the basis of forged documents and serving liquor without a permit, but had later been released on bail.
Expressing his happiness over the verdict, key witness Deepak Bhojwani said over telephone from South Africa that justice had finally prevailed.
"I am happy that the high court has done justice", he said.
Lawyer Kamini Jaiswal, who had been involved with the 'Justice for Jessica' campaign, said, "This judgement vindicates how important it is for people to come together".
"The high court had not taken any additional evidence. This judgement could have come earlier. How could the trial court acquit him", she said.
Upcoming actor Munshi, a witness in the case who had turned hostile, said he was pleased with the verdict.
Talking over the telephone, he said, "I am relieved that the case is over".
He described the imbroglio over his role in the trial as a case of miscommunication.
Munshi, echoing Ms Ramani, called for a witness protection programme to be put in place.
"I think it should be brought into place. It always helps", he said.
Mr Amod Kanth, DGP, Arunachal Pradesh, who was the Joint Commissioner, South Range, when the murder took place, said, "I am extremely happy and most delighted. Justice has prevailed and investigations done in 1999 have succeeded". — PTI