M A I N N E W S
Grewal to head Punjab education panel
Sarbjit Dhaliwal
Tribune New Service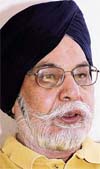 Chandigarh, December 18
Eminent educationist, historian and former Vice- Chancellor of GND University J.S. Grewal will be the Chairman of the Punjab Education Commission.
The commission has been set up to revamp the school and higher Education that are in a shambles in the state. Other members of the commission will be former PU Vice-Chancellor K.N. Pathak and agricultural economist P.S. Rangi.
The Secretary for the Higher Education and the Secretary for the School Education will also be the members. And two eminent persons, associated with the School Education, will also be taken into the commission.
The author and editor of some important history books, Prof Grewal, has served as Vice-Chancellor of Guru Nanak Dev University, Amritsar, from 1981 to 1984. He was also made head of the Text Book Committee to remove objectionable portions from history books.
Dr Pathak, who had been Vice-Chancellor of Panjab University for six years, is an eminent physicist. He has associated with research work in Germany, Canada and America, it is learnt. Dr P.S. Rangi is an expert in agro-economy. At present, he is working as a consultant with the Punjab Farmers Commission. Earlier, he was in the Panjab Agricultural University.
Punjab's school education as well as college and university education is in a mess. The education sector has been ignored for the past two decades. The respective governments have been taking years to fill even vacant posts. While certain other states have gone up on the ladder of education, Punjab has been sliding down.
Even a majority of the graduates and post graduates cannot write an application to seek job. And in government schools, most students cannot spell correctly even simple sentences. Technical and medical education, too, is in a poor shape.
Various companies visiting Punjab to employ the youth for the IT sector have been complaining that neither Punjab students express properly in English nor they are good in theory.
Education institutions in Punjab have been churning out the stuff most of which is unfit for the job market. Recently, Dr G.S. Kalkat, a former Vice-Chancellor, had stated that his son was deputed to employ 60 engineers for his company and he visited Punjab for this purpose. He failed to find a single student who could meet the parameters set by the company.
Keeping in view all this, a proposal to set up the commission was mooted by the Chief Minister, Capt Amarinder Singh, a few weeks ago.
Following his proposal, a committee of seven Vice-Chancellors was set up to prepare the terms of reference for the commission. After discussion at various levels, the committee had recently submitted its report to the Chief Secretary, Mr K.R. Lakhanpal.
Prof J.S. Grewal said he had got no order for his appointment as Chairman of the commission. "A few days ago, the state government had contacted me to seek my consent to be part of the commission. My response was positive", he said.
Mr Pathak said he was also contacted by the state government a few days ago.