Hear is your chance
Talk yourself into a career in speech therapy and audiology, writes Usha Albuquerque
Joining a medical college as an MBBS student is not the only route for entering the medical field. With the increase in medical facilities, polyclinics, diagnostic centres, labs, hospitals and clinics, there is a glaring need for various paramedical experts, technicians, nurses and pharmacists.

Careercature
Sandeep Joshi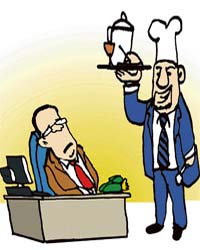 Sir, from a chef to vice-president, I qualify for all the jobs you advertised.

Upgrade knowledge to advance career
I.M. Soni
Progress in a career entails acquiring new qualifications and upgrading knowledge. And that means seriously studying to pass examinations. Hence, proper techniques of study are necessary. These are all the more vital for part-time learners ó those not attending college or university classes.

Career moms find new ways to make things work
Molly Selvin
Attorney Becky Belke works at a law firm where colleagues regularly toil nights and weekends. But as a mother of three children younger than 5, she wants to work only three days a week ó even if it means she canít become a partner soon.

Top jobs elude women in Silicon Valley
Silicon Valley may be leading the way in the technology sector, but the IT hub is still lagging behind when it comes to the battle of the sexes, a recent study has shown. Women account for only 6.5 per cent of board members on Silicon Valley firms, and of that figure, only 8.8 per cent occupy top positions within the companies, the University of California, Davis study found.

Bits & bytes
Mouthful of opportunity
Tooth tourism pushes up demand for dental courses
WITH dental implant technology gaining ground in India, dental tourism is fast turning into a money spinner, a top official of the American Academy of Implant Dentistry said recently. The number of foreigners undergoing dental treatment in India is expected to grow to five to eight per cent from the current figure of 0.5 per cent in the next five years, Academy director Shankar Iyer told newsmen in Chennai.

Career Hotline
Nursing ambition
Pervin Malhotra
Q I am a student of B.Sc (Nursing)-III. Please advise me on the prospects of higher studies and job avenues in India and foreign countries.