Sinosure of all eyes
Nick Mulvenney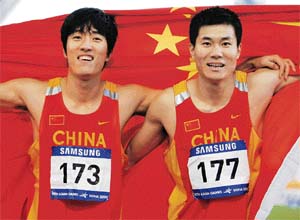 World record holder Liu Xiang (left) and silver medallist Shi Dongpeng expectedly made it a one-two for China in the men's 110m hurdles at the Asiad. — Reuters photo
THE Chinese not only took home the most gold medals for a seventh successive Asian Games from Doha, they took the flag and torch of the continental gathering too.
With the next Olympics in Beijing in 2008 and the 16th Asian Games taking place in the southern city of Guangzhou in 2010, the next four-year cycle in Asian sport will have a distinctly Chinese flavour.
Their athletes, however, do not seem to need the advantage of performing on home soil after winning 165 of the 428 gold medals in Doha, 15 more than in Pusan in 2002.
Two-thirds of the delegation had never competed at a major games and still China swept the diving pool, won six of seven gold in table tennis, 27 of 44 in shooting, 11 in gymnastics as well as making inroads into new sports with a bronze in rugby sevens.
The Beijing Olympic are just 20 months away, however, and there will be no complacency.
"Though we have won 164 gold medals we can reach world-class level in only some of the sports with some falling far behind the Asian level," said China's Sports Minister Liu Peng before the basketball team added a 165th gold.
"While we have achieved good results in some of our strong sports, other countries and regions are catching up. In those sports ... competition is fierce. We failed to grab any medal in some potentially strong events."
Liu might well have been talking about the badminton, where men's world number one Lin Dan was beaten twice and China ended up with just four of the seven gold at stake.
"We will review our performance by sport, by team, by match and by athlete in order to take proper measures for the existing problems," Liu added.
"We will be more strict with ourselves and set higher targets for the future."
The Japanese were satisfied with finishing third behind South Korea with their haul of 50 gold and 198 medals, although head coach Noriyuki Ichihara thought his male athletes needed more focus.
"The athletes who performed well were many of the younger ones, who excelled in swimming and athletics," he said.
"The women did very well but the men didn't do so well ... We think the male athletes are sloppy and could do better and be more focused."
Double Olympic champion Kosuke Kitajima grabbed three titles as Japan won 16 gold in the pool but the top swimmer was South Korea's Park Tae-Hwan.
The 17-year-old set new Asian marks to win gold in the men's 200m and 1500m freestyle and grabbed another in the 400m freestyle as well as a silver and three bronze. He was voted the most valuable player of the games (shooter Jaspal Rana was among the nominees).
There were precious few records set in Doha, with the only world marks overtaken coming in weightlifting and shooting, while Asian records also largely remained intact.
Only one Asian record was set in a disappointing athletics programme, when Zhang Wenxiu surpassed her own mark in the women's hammer.
China's Olympic 110m hurdles champion Liu Xiang turned up and cantered to gold in 13.15 seconds, well outside the world record 12.88 he ran this year.
African imports ruled the track for Bahrain and Qatar, while Saudi Arabia's John Smith-trained athletics team grabbed five gold to prove it was possible to develop home-grown talent in the Gulf.
While China's dominance of the medals table was no surprise, the 50cm or so of rain that fell on the desert Emirate over the period of the games was.
The poor weather could not have helped attendances at the events, which were disappointing for a country which had lavished $2.8 billion on the games and has ambitions to host the 2016 Olympics.
Expatriate Indian and Sri Lankans, who make up much of the population of Qatar, turned out in numbers to cheer on their athletes and the kabaddi final and tennis matches featuring Sania Mirza were sell-outs.
Only football and basketball attracted large numbers of Qatari nationals. Their men's teams responded by reaching the finals, losing on court to China before beating Iraq on the pitch. — Reuters