A search for identity
Rachna Singh
Mercy In Her Eyes: The Films of Mira Nair
by John Kenneth Muir.
Westland Books. Pages 290. Rs 295.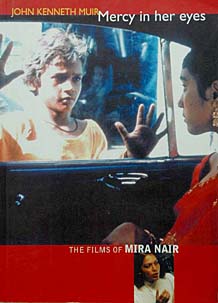 Browsing through a collection of films in a Music World outlet one day, I happened to look out of the glass window and saw to my amusement three city urchins engrossed in dancing to Hrithik Roshanís hit number Ek pal ka jeena of Kaho Na Pyar Hai fame. This little vignette, so reminiscent of a Ďframeí from Mira Nairís Salaam Bombay, sent me willy-nilly to get hold of a DVD of the film. Watching the movie, I felt that even after almost 20 years of release, the film has still not lost its relevance or contemporary cast. This is also true of Nairís other filmsóMississippi Masala, Monsoon Wedding, etc.
John Kenneth Muir in his eminently readable book Mercy In Her Eyes traces Mira Nairís journey as a filmmaker who intends to "change the world through art". Muir forges a true-to-life image of Nair as an intensely visual auteur, a "truth-seeking" Amazon and a filmmaker who feels a sense of "genuine joy" in her creation.
Varied perceptions of people associated with Nairís cinematic genius give this well-researched book a life and vivacity of its own. Sooni Taraporewala (screenplay for Salaam Bombay), Roshan Seth (Jay in Mississippi Masala ), Uma Thurman (Deb in Hysterical Blindness) et al show us a Nair "who wants to make serious passionate cinema that will get an ordinary audience, not an arty intelligentsia crowd".
We also see an "irreverent and playful" Nair using her consummate skills to "reveal our tiny local worlds in all their glorious peculiarity". The eccentricities of the marigold-eating Dubey of Monsoon Wedding or the graveyard sojourn of Krishna and Chillum of Salaam Bombay leave an indelible stamp.
Nairís oeuvre encompasses within its ambit locales as disparate as the streets of Bombay, Delhi and Kampala, stories that "jump-cut" from Cuban exiles to an "AIDS" doctor to a Punjabi wedding. And yet, as Muir rightly points out, for all her experimental forays, Nairís focus is almost always on the vicissitudes of characters in exile.
Krishna of Salaam Bombay, Jay of Mississippi Masala, Dorrie of The Perez Family, Deb of Hysterical Blindness are all "nowhere" people attempting to forge their own particular identity which emerges from the embers of a type-cast "chaipau" or a Uganda expatriate or a Cuban exile. This odyssey is, however, delineated with mercy and compassion. So, Baba, the pimp, is despicable, but ĎBabaí, the father, is human.
For Muir, this depiction of a human truth makes Nair unique and her cinema global.
Kenneth Muir also infuses his book with an honesty which is characteristic of Mira Nair and her work. So Muir, forever the judicious critic, hands out "kudos" to Nairís genius but also openly debunks Kama Sutra for its sensual and languorous haze, which overpowers a story of true love. The Perez Family also becomes just an "attractive spectacle". But in the end, what endears the book to the reader is its pulsating rhythm and energy, which encapsulate the true Mira Nair. A must read for film aficionados and all Mira Nair fans.