Audit of the emotional stock-room
James Urquhart
The Lay of the Land
by Richard Ford
Bloomsbury £17.99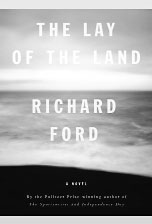 Itís amazing how much Richard Ford can pack into a national holiday. The Lay of the Land is a massive, ruminative, poignant and cathartic novel that unpacks an awful lot of luggage into the few days of Americaís Thanksgiving holiday in the fall of 2000. The Clinton-Bush electoral farrago rumbles on in the country at large but 55-year-old Frank Bascombeís problems are all intimate. His twenty-something daughter Clarissa is living with him again, which is good; but she moved in to support him after his shocking prostate diagnosis. Worse still, she then ditched her smart girlfriend to experiment with men again, and her "woogling" now disturbs the calm of his sequestered Jersey Shore home.
Bascombe knows the propertyís value since his own realty brokerage is flourishing; but he is alarmed to hear from his ex-wife Ann that their difficult, emotionally volatile son Paul, currently writing greetings card captions in Kansas City, might want to join him in business. Both Paul and Clarissa are due to attend Frankís family Thanksgiving dinner. In a weak moment, Frank also invites Ann, which would surely not have happened had his current wife, Sally, not returned her wedding ring and followed her former husband to Scotland.
Between these principal characters lies plenty of history, unexpectedly buckled and contorted like stone under pressure. Frankís steady examination of the various fault lines defining the bedrock of his life, while he drives around his few appointments of each day, forms the real substance of this excellent and engrossing novel. Old friendships, former lovers, health scares, professional hiccups, misfiring family relationships, the practical ordeal of dinner: Ford expertly draws together the many universally human pre-occupations congesting Frankís holiday weekend, letting Bascombeís own tenacious, self-analytical temperament work through to responses that look out into the world with optimism and dignity.
Ford likes the canted pressure that holiday festivities can exert on taut emotional wires, and he has put Frank Bascombe through the mill of two previous family celebrations which both end in catastrophe. Bascombe first appeared 20 years ago in The Sportswriter as a young man who had penned a lucrative collection of stories before turning to sports writing. During one Easter weekend, an unsatisfactory journalistic assignment is capped by a disastrous Easter lunch with his prospective in-laws and a newly hostile girlfriend.
Nine years later, Independence Day clinched the Pulitzer Prize for Frankís intense Fourth of July road trip with Paul, his wayward teenage son, which took in the basketball and baseball halls of fame as well as a less-planned rural emergency room. Frank had already lost "the sweet pain to know whateverís next - a must for any real writer" and had slipped into the passive urbanity of selling real estate. Gradually, the dynamic, youthful hankering for progression has also been superseded by what he calls his Existence Period: "he high wire act of normalcy" patented to ward off crisis feelings of mid-life entropy.
Another decade on, The Lay of the Land exudes a confidence in Frankís own affairs that is sustained by Fordís sweeping, inclusive prose. Each novel freshly addresses the varying maturities of Frankís yearning for love, his need for self-acceptance and a positive reconciliation with the shrapnel of marriage, but this third outing finds Frank sifting the unhubristic detail of his middle age with the closer scrutiny of accrued wisdom. He is still a staunch Democrat, forthright, surprisingly buoyant and undiminished, but priorities are beginning to settle in favour of tackling emergent difficulties head-on, instead of coasting easily around them.
"For your life to be worth anything," Frank suggested in The Sportswriter, while coping with recent divorce and the death of his first-born, "you must sooner or later face the possibility of terrible, searing regret." 1,300 pages and nearly two decades later, Frank still admits to the tempering qualities of survived crisis: ím actually ready to believe that what any marriage might need is a good whacking abandonment or betrayal to test its tensile strength." Ford gives that tensile strength a very good kicking in his marvellously unexpected climax. On its own, The Lay of the Land is an exhilarating audit of Bascombeís emotional stock-room, but taken with its two predecessors, it is a masterly account of a modulating adult life. Fordís canvas is huge, but his wealth of subtle detail remains astonishingly vivid.ó By arrangement with The Independent