Food talk
Make waves with this dish
Lehariya paneer is an easy-to-make tasty finger-food that is wholesome too, writes
Pushpesh Pant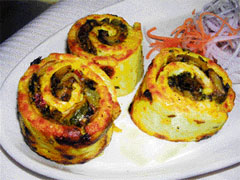 The friend who treated us to this interesting delicacy insisted on calling it teh te the—perhaps to strengthen the parochial claim that it is a child of the Punjab's soil. It brought back to our mind the delectable Murgh Wajid Ali Shah, an Avadhi original fashioned out of chicken supremes. Well, to be honest that was/is a gravy dish. While this is more akin to a dry yet succulent finger food. It is a substantial snack but the general idea is the same: an unusual filling that transforms a bland Cinderella into a charming princess.
Paneer roulades taste so much better chipped in a young professional chef who swears by fusion in the era of globalisation but failed to convince us. A swadeshi loyalist strongly argued in favour of chakrakaar but found no takers. While the wordy duels distracted others around we had ample opportunity to judge the case on its merits. What is beyond disputation is that the imaginative innovation is a welcome addition to the desi cheese repertoire.
It has great eye appeal, delightfully contrasting textures and attractive, addictive yet subtly underplayed flavours. A friend more skilled than us tells us that the new kid on the culinary block is even more appealing when 'turned' in tandoor. We are quite content with less complicated pan-grilling. Don't worry too much about trimmings piling up when the slab of paneer is transformed into dainty strips.
You can always use these for a tasty, nourishing bhujiya, khurchan or fillings. Just resist the temptation to utilise the byproduct in this recipe. One must, at all costs, guard against too much of a good thing. Paneer rashers are to be treated as beloved old friends but not at all allowed to exclude more recent acquaintances with promise. We beseech you not to fall prey to the tomato puree temptation that will waste all the hard work and reduce this to mutant of kadhahi-makhani paneer.
A chutney filling or even a thin layer of the tangy stuff will inevitably establish an unpleasant relationship with pudina tikka. If you can't live without gravy, try staying the course with gentler, unexpected, but certainly not jarring, options. A hint of cardamom, a slight tint of saffron, a 'sauce' that doesn't push the star backstage should only be considered. We are partial to lehariya paneer ourselves.
Paneer delight
Ingredients
Paneer (slab) 500 gm
Filling
Button/oyster mushrooms
(sliced thin then chopped) 100 gm
Seedless olives (pickled) 10-15
Piece of fresh ginger (minced) 1 inch
Sweet bell pepper red/
yellow (diced) 1/2
Mixed dried herbs A large pinch
Green peppers 1tsp
Kasundhi/English mustard 1 tbsp
Oil to 'line' the frying pan and
stir-fry the vegetables
Salt to taste
Method
Cut the paneer into `BC-inch thick slices then into strips of about 2-inch broad. Trim well to obtain elegant ribbons. Place a thick-bottomed frying pan and melt the butter in it. When hot, add the ingredients for the filling, sprinkle the herbs and salt and stir-fry for about three minutes. Apply with a moistened finger a thin layer of Kasundhi or English mustard.
Gently spread the filling on each strip taking care that it doesn't spill over or deposits more towards edges. Carefully role the strips and secure with a clove.
Pan grill with a delicate touch to colour golden brown 'patches' evenly.
Cut into bite-size pieces before serving. It sure beats the much-abused paneer tikka as a vegetarian kebab.