Lage raho for justice
Movies like Munnabhai and Rang De might act as reel catalysts but we need real-life people to take on the role of fighting for social justice, observes Shakuntala Rao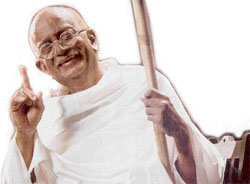 Gandhigiri has captured popular imagination
Lage Raho Munnabhai has rediscovered the Gandhian movement, albeit with a Bambaiya twist, and a gangster (rather than a satyagrahi) leading the way. Young protestors file the streets at India Gate with candles in hand protesting the acquittal of Manu Sharma and opposing the draconian reservation bill reminding us of the scenes of the hit Rang De Basanti. Has Bollywood reinvigorated a sense of social justice among the younger generations?
Social justice has historically meant a political and structural commitment by society to direct the resources of modern civilisation to benefit all people, particularly those who are economically, socially, politically, or culturally under-resourced. An implicit assumption of a social justice perspective is that the integrity of any community suffers when some of its members are systematically deprived of their dignity or equality.
Vidhu Vinod Chopra's Lage Raho Munnabhai bagged the Best Film award at the 2nd Global Indian Film Awards in Kuala Lumpur, upstaging Omprakash Mehra's Rang De Basanti, which dominated the glitzy Bollywood night by winning in eight categories. Over 4,000 ecstatic fans thronged the Putra Stadium to witness the five-hour award function on December 10, attended by Malaysia's Queen, Prime Minister Abdullah Badawi and Deputy Premier Najib Tun Razak and the cream of Indian cinema. Chopra also won the award for the Best Story for his super hit movie that has grabbed the imagination of Indians with its theme of Gandhigiri — a coinage for Mahatma Gandhi's teachings.
Gandhi stood up for social justice and his weapons of choice were ahimsa and satya. His objectives were to uplift the Harijans and to achieve swaraj. Times have changed. We have achieved swaraj. Satyameva jayate is the motto of the new nation as it appears in the national emblem. Gandhi has become a footnote in our children's textbooks and Gandhi Jayanti is a day we spend at a mall looking for sales than observing fasts and using the charkha (as many from my parent's generations did).
At the movies, meanwhile, Munnabhai dominates the box-office. He is suave, charming, and sweet. He carries a gun, and in his spare time, stalks and kills. He has spawned an entire tapori language, wardrobe and culture (Oxford English dictionary, incidentally, is contemplating including the word tapori in its next edition).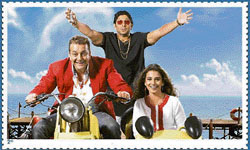 A scene from Lage Raho Munnabhai
We find Munna intriguing because he is traversing moral boundaries that most moviegoers would never cross. In a way, Munna is making the world a better place one mutilated corpse at a time, and if he has to bully or kill someone, better that it's the bad guys, right? We can forgive all his wrongdoings because, above all, Munna listens to Gandhi.
Truth is that a sudden interest in Gandhi and social justice, driven by escapist cinema, cannot bring change. While films can focus our attention on social issues, they can neither give us concrete rules of action, nor a vocabulary of empowerment. For that we don't need cinematic imagination but real people who will recognise and stand up for a just cause.
Watching Munnabhai (or RDB) gives our young generations a momentary high; it also leaves them burdened with the inevitable—they need to lage raho for social justice.