Chinese way to progress
Maj Gen Himmat Singh Gill (Retd), who visited China recently on an invitation from the Chinese Writers Association, Beijing, writes about the many facets of the country worth emulating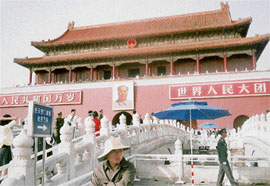 The Tiananmen Square in Beijing
The flight of the pigeons over my hotel room into the early morning azure sky, was symbolic of the way the People's Republic of China has taken off in the 21st century. Mao's statues with the pointed raised arm are very much still there and the charismatic leader of an era bygone is still respected, but he is today exhorting his people towards progress in the corporate sector.
It was a let down to see the new China going down the riches- and-money route but sadly that seems to be the reality in the present times where sprawling real estates, land reclamation of available coastal belts, and swanky malls (outshining even those in downtown Manhattan or San Francisco), seems to be the new mantra. The present rulers of China do not seem concerned at the appreciable change of direction from the revolutionary socialist fold to the capitalist mould on the US lines.
In a ruler-and-be-ruled fixated society one could see as we roamed the north-east, central and south China, that concrete jungles like Mumbai had won a march over heartlands of the rural countryside. Small townships have eaten into the countryside to make way for more and bigger towns, a larger road network, dams and other well-recognised symbols of modern day progress.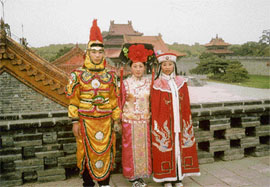 Chinese in their national costumes at the Imperial Palaces of Ming and Qing Dynasties
China scores overwhelmingly over India and other over populated countries in what can be termed as the management of its population and society. Has it been the centuries old bid for survival against their rivers of sorrow which would flood out much of the land that can be brought under the plough, or the wars and invasions from neighbours when edifices like the Great Wall had to be built to keep out the invaders. A disciplined society used to orderly ways even when not being supervised, is China's biggest national asset today. My detractors would call it an unbearable autocracy, but the thousand strong orderly lines outside the World Horticulture Exhibition which we visited and where no one broke the line, or the control of pedestrian and two wheeled traffic at intersections by yellow jacketed, flag-carrying volunteers with a whistle in their mouth, or a complete check in and security at a domestic airport in just over a minute per person and play rooms and creches for children and minors to boot, and total punctuality at the place of work, a private dinner or as a bus driver designated to carry a delegation around a city, are all gifts worked hard for and have not necessarily descended from heaven, and act as suitable role model for any country that is bent upon attaining a superpower status.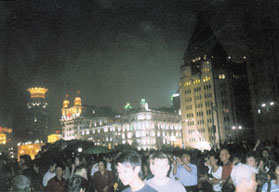 Glittering Shanghai: City of dreams and hopes
There is a system in place at every rung of the Chinese social and working order, where a person even one notch down the pecking order takes his directions from his immediate superior very seriously and carries out the implementation in a professional manner. Those who break the rule of law face the consequences almost immediately. China has controlled its 1.32 billion population by a law ever since the 1970s that restricts the family to just one child be it male or female ,and defaulting couples are made to miss out on most state benefits and welfare schemes.
Incidentally, as opposed to the popular perception that China has become a land of the oldies and that youth from abroad has to be imported to run their enterprises, published figures for 2003 showed that those in the age bracket of 1 5-64 comprised a high 70.4 percent, and those over 65 years only 7.5 percent of the total population. Social welfare measures like medical insurance where the affected contributes along with the state, employment-based injury insurance, and social security allowance for basic subsistence of the unemployed, are some of the welfare measures in place which makes the life of a Chinese whether he is a majority community Han retiree or not much easier.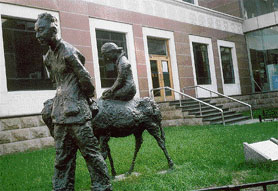 Sculpture of Chinese writer Zhao Shuli (in foreground) at the National Museum of Modern Chinese Literature in Beijing
In China, people are made to work for the benefits that they would receive at the end of the day, whereas in our society there are a very large number of passengers who wish for benefits gratis. Earnings out of the State Welfare Lotteries as they are called, help out the aged, the disabled and orphaned children in China
There are two other aspects, the question of one link language for their masses and the literary scene where the Chinese treat their writers with respect and some deference, a community very different from the rest and meant to be nurtured as a State treasure of sorts.
Archaeological findings have revealed that a total of 57 ethnic minority scripts have been used since ancient times in China, with Mandarin being the most commonly spoken (even if everyone cannot write in it) language, which even the Manchu and the Hui people also use freely. There is a problem here of course that whereas they might have linked up their people language-wise within the country, there is no link language to the outside world (unlike India where English and not Hindi is the link).
If Han Chinese, comprising seven major dialect groups and over 100 sub-dialects, can knit a country together, there is no reason that a simple Hindustani (and not Hindi which millions in the South and elsewhere will resist) cannot serve our purpose in India. The National Museum of Modern Chinese Literature in Beijing (India does not possess a National Museum of Letters exclusively), houses all available material relating to modern Chinese writers including their pictures, works, resumes and manuscripts.
The diaries and correspondence of literary geniuses like Lao She, Ding Ling, Zhao Shuli and Ba Jin who believed that the Cultural Revolution had hurt the Chinese people, adorn the neatly kept original writing tables of these cult figures, as respected if not more than their top leaders like President Hu Jintao or Premier Wen Jiabao. The only Indian writer known in China appeared to be Rabindranath Tagore. This is a sad commentary on the Indian Embassy in Beijing as well as our concerned ministries in New Delhi.
A nation that does not know its writers and its heritage, is doomed to mediocrity and misses out on the constant change that must follow every civilisation for its ultimate betterment. Street cleaners wearing face masks and doing their duties, clean buses that gave the day, date and temperature at the time, urinals that did not stink even when thousands were using them by the hour, TV channels that did not waste time on tooth paste and soap ads only but ran full-length programmes on the armed forces and their own writers who were still in service. Busy cycle lanes and benches in every small park, boys and girls celebrating an occasion with the famous home made beer named Tsingtao, and a proud and vibrant Tiananmen Square pronouncing on a wall in bold letters in red, "Celebrate enthusiastically the 57th Anniversary of the People's Republic of China".
China has managed to balance tradition with modernity and believes in keeping updated its nuclear missile armoury along with its world heritage sites like the Forbidden Palace and the Temple and Cemetery of Confucius, and more importantly, is not afraid to strike out on its own and face the consequences of its lone march because it knows that it has its people—the biggest asset that any country can ever hope to have to back it up.