Story for the season
Itís a Wonderful Life is popularly regarded as the ultimate Christmas classic. Vikramdeep Johal pays tribute to the film on its 60th anniversary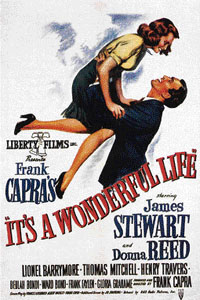 The original poster of the 1946 film
Christmas is a grand celebration of life. Can you imagine someone contemplating suicide while the people around him are joyously gripped by the Yuletide spirit?
Itís a Wonderful Life (1946) is the story of a debt-ridden philanthropist who thinks of taking the extreme step because he considers himself a failure on all fronts. He is persuaded not to do so by an elderly angel who shows him how hellish the lives of his relatives and friends would have been had he never existed. The "born again" man returns to his family and enjoys Christmas with new-found optimism.
Frank Capraís fantasy might be six decades old, but it has lost none of its power to strengthen oneís faith in life. It is also unforgettable as an ode to the goodness of the common man.
James Stewart, with his nice-guy image, was perfect as the self-sacrificing protagonist George Bailey. This was his first film on returning from war service, and his third (and last) with Capra after the acclaimed comedy-dramas You Canít Take it With You (1938) and Mr Smith Goes to Washington (1939). Itís a Wonderful Life saw both the actor and the director at their best.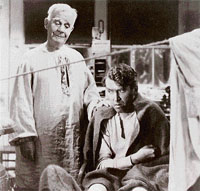 Henry Travers (left) and James Stewart in Frank Capraís Itís a Wonderful Life
It was Capraís favourite among his own works, even though it received mixed reviews. Some critics found its sentimentality too sugary for the taste of American audiences, who were yet to get over the bitter experiences of World War II. It also failed to win any Oscar despite several nominations (The maestro had bagged as many as three awards for best direction in the 1930s for It Happened One Night, Mr Deeds Goes to Town and You Canít Take it With You). The 1946 Oscars were swept by William Wylerís The Best Years of Our Lives, the then topical movie about the rehabilitation of war veterans. However, the Fredric March starrer has not really stood the test of time, while the Stewart classic, like vintage wine, has got better and more popular over the years.
The witty script was based on Philip Van Doren Sternís short story The Greatest Gift, which was originally written for a Christmas card. Among the supporting cast, Henry Travers was quite charming as Clarence Oddbody, the "second-class" guardian angel who earns his winged promotion by making an earthling realise how precious a gift life is.
This film was the crowning achievement of Capraís illustrious career. He subsequently lost his magic touch, dishing out movies that fell well below his high standards. His swansong, Pocketful of Miracles (1961), was ironically an inferior remake of his own hit comedy Lady for a Day (1933).
Itís a Wonderful Life was turned into a TV movie called It Happened One Christmas in 1977. In fact, some of Capraís best works have been remade not only by Hollywood but also by Hindi cinema. Dil Hai Ki Manta Nahin was "inspired" by It Happened One Night, while Main Azaad Hoon was a desi version of Meet John Doe.
A shining example of the directorís idealism, a pure entertainer, a life-affirming fable ó no matter what you call it, Itís a Wonderful Life has endeared itself to one generation after another due to its universal and timeless appeal. If you want to see one feel-good film from Hollywoodís Golden Age, go for this gem.