Kangana arrives with a bang
Subhash K. Jha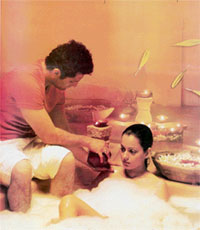 Kangana Ranaut with Shiney Ahuja in Woh Lamhe
Bollywood actress Kangana Ranaut is on cloud nine after bagging the best actress award for her role in her debut vehicle, Gangster - A Love Story, at the Asian Festival Of First Films in Singapore.
Sheís the first Indian actress to win the prestigious award. Recalling the thrill of winning her first award, Kangana told IANS: "It was Kunal Kohli who informed me about the award. My lifeís first award and that too in Singapore where I was pitched against three other names!" The nominees for the award also included Aditi Rao Hydari, for her moving portrayal of a vulnerable devdasi (temple dancer), in debutant director Sharda Ramanathanís Tamil film Sringaram.
But if transparent vulnerability and a power to strip the soul naked in front of the camera are the favoured flavour of the awards season this year, then Kangana in director Anurag Basuís Gangster is the leader of the bright young pack.
The Asian Festival Of 1st Films acquires a special significance because films from all over the world compete for the honours. The jury members this year, who chose Kangana, included Hong Kong actress Cecilia Yip, American writer-producer James Hart, British filmmaker Michael Yorke and Indiaís own Ketan Mehta. "Iím am almost on cloud nine. This isnít only my first award itís also an international award. And Iím the first Indian actress award to get it!" enthused Kangana.
"Unfortunately, I couldnít be there at Singapore to receive my first award.
By the time I came to know about it, and that I was required to collect my best actress award in the first week of December, it was too late to get a visa. I tried my best though." Apparently, Vishesh Films hadnít entered Gangster in the festival until filmmaker Kunal Kohli pointed out the keen possibility of Kangana winning the best actress award.
Once the film made its way casually to Singapore, no organisation in Mumbai or Singapore was willing to fund the actressí travel to the city state. "If that was the case Iíd have happily paid for my own ticket to Singapore.
The Best Actress Award at the Asian Festival of First Films was not only a great honour for me personally but also for our movie industry. No Indian actress has ever received the award. Iíd have been very proud to be there. I guess this is one of those things that wasnít meant to be," said Kangana.
Days later she received her second award, the best debutante of the year, at the Global Indian Film Awards (GIFA) concluded on in Kuala Lumpur.
One question that remains after Kanganaís singular victory at Singapore, Why is Bollywood so reluctant and disorganised in facing up to the requirements of international festivals? Two months ago Shirish Kunderís directorial debut Jaan-e-Mann couldnít make it to a festival in New York on time. And now Kangana fails to make it to Singapore for an honour never given to any actress in Bollywood.
Maybe Bollywood needs to get seriously organised before thinking international. ó IANS