Momís turn now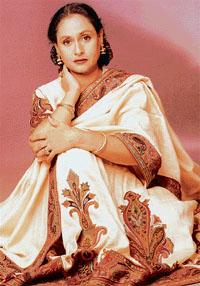 Jaya Bachchan will play reel mom to Abhishek in Drona
Heís played a son to his father in more films than one. Now itís momís turn.
Jaya Bachchan has so far not had an opportunity to play screen mother to son Abhishek in any film barring the Bengali film Desh where Abhishek put in a very special appearance as Jayaís NRI son.
Now the two will be seen as a full-fledged mother-and-son pair in family-friend Goldie Behlís Drona.
Goldie hasnít made a film since his debut Bas itna Sa Khwab Hai in 2001 with Abhishek Bachchan
Says a source, "Drona is a big film in terms of canvas and budget. But it has only three main characters, played by Jayaji, Abhishek and Priyanka Chopra. So there will be ample scope for the mother and son to interact."
Incidentally, Jaya and Abhishek are also coming together in Prodip Sarkarís film, though not as mother and son.