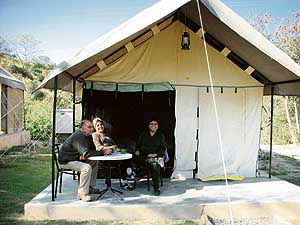 Camping among the Kikkars
Camping in luxury tents among the kikkars on a cold winter night and waking up to a bright sunny day can be quite an experience, says Nirupama Dutt
Shakespeare in a song called for a return to nature, away from the toil and trouble of earning one's bread, called for a soul mate, who would love to be with him under the greenwood tree. The bard wished to turn his merry note unto the sweet bird's throat and eating the food he got: The only enemies envisioned were winter and rough weather.

WILD RETREAT: Holiday makers and Chef Sukhdev Singh (below). — Photos by Anisha Dutt

Divya aushidhi nirmata
All of 23 years, international tennis player, Akash Sharma, is already the Managing Director of his own company, Rudra Remedies, manufacturing Ayurvedic medicines. The topping on the cake, so far for this city lad, has been getting the Bharat Udyog Ratan award, conferred by the Indian Economic Development and Research Association, on December 20 in Delhi.



Mountain Magic
Naresh Pandit enthuses present truths onto his canvases that have elements of Pahari art, says Parbina Rashid
Naresh's paintings seem familiar, yet not. Since they come under the title 'An Exhibition of Pahari Art', we try to relate his works to the usual Pahari paintings we had seen earlier. The two-dimensional forms, trademarks of a Pahari painting, are there, but the expressions are not what one would expect. The earthy beauty of Himachali women is not lost, but the usual soft and dreamy expression is being replaced by harsh reality, what one can safely describe as the face of a workingwoman. That, in a nutshell, is the changing face of Pahari art.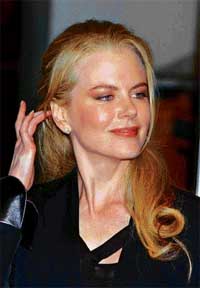 Auld Lang Syne
Having designed our surroundings all year, let's chill out with a New Year's party design this week. Welcome the New Year with these ideas for party favors, napkin folds, centerpieces, and pretty table settings to wow your guests. Create dramatic tall displays of food adding a Victorian flavour to your buffet table in the garden or your sideboard if the party is inside. These stacked cake pedestals lined with flat cedar sprigs and piled with fruit and cookies will tempt all age groups without the hassle of serving the guests individually.
Film & Fashion
Kidman, Urban reunite


Australia's most famous couple, Nicole Kidman and Keith Urban, have been reunited in the Oscar-winning actress' hometown of Sydney, just days after a woman claimed she'd had an affair with the country music star. New Zealand-born Urban flew into Sydney after spending two months rehabilitating in the United States for alcohol abuse.
Song of the valley
The folk music of Kashmir and serenity of Sufiana kalam, even when its philosophy was not fully within his grasp, urged Masoom Thakur to take to singing, that too in the lap of nature. "Out of sheer innocence, I used to presume that the hillocks are listening to my songs with rapt attention," shares Jammu-bred and now Delhi-based maestro Masoom Thakur, reminiscing the good-old childhood days in the Kashmir valley.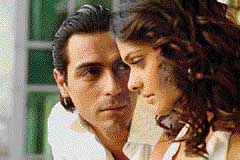 NEW RELEASES
Seeing is believing
The year 2006 ends with the release of I See You and the stage is all set for more surprising entertainers from young filmmakers. The film brings together many a new comers right from Arjun Rampal debuting as a producer, Vipasha as lead actress and director Vivek Aggarwal.
Arjun Rampal and Vipasha in I See You
---