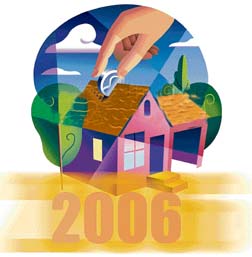 2006 was good, 2007 to be better
Real estate sector will continue to be one of the fastest growing sectors, writes Maneesh Chhibber
The year 2006 was one of the very good years for the real estate sector, if not the best, in the country. What's more, experts say 2007 will be better. With almost all major real estate companies outperforming the 50 stock benchmark Sensex by hefty margins, the scene in the real estate segment can only get better from here on.
Buyers gain a bit
Market may look up after Punjab polls, says Pradeep Sharma
After one of the biggest booms in the history of the real estate sector in Chandigarh's periphery in 2005, 2006 was the year of recession with real estate developers having a tough time selling multi-storeyed apartments.
Haphazard growth hits hills
Landowners violate planning Act, sell plots without proper approach roads, says Rakesh Lohumi
Illegal subdivisions of land and non-adherence to the basic principles of town planning have been mainly responsible for the haphazard construction across the hill state.


Realty through lens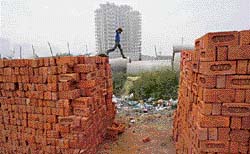 A labourer breaks a concrete slab at a construction site for residential buildings in Ghaziabad. India's real estate market is in an overdrive as developers snap up land to build malls and housing enclaves, but high prices and opaque rules make it hard for first-time buyers to land a dream home. — AFP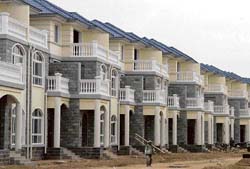 A painter walks in a villa area in Huai'an, Jiangsu province. In the latest move to promote the sale and construction of small apartments in the booming real estate market, China is considering levying a tax on the building of big apartments. — Reuters
Buzz on Bourses
Stake in Unitech Corp Park
London: Global fund house, Fidelity, along with its other group companies, has picked up 5.82 per cent of the shares offered in the public issue of Unitech Corporate Parks, a subsidiary of Indian realty firm Unitech Ltd.
Speculators lose on Baramula-Uri stretch
The Jammu and Kashmir government contemplates leasing out 561 kanals to private parties in Gulmarg for construction of hotels and restaurants for international tourists. This is one of the strategies resorted to by the government to attract tourists in militancy-ravaged Kashmir.
Govt grapples with urbanisation challenges
Saddled with the Herculean task of providing houses to 25 million urban poor, the Ministry of Housing and Urban Poverty Alleviation spent 2006 grappling with the challenges of urbanisation.
Good year for hotel industry
Higher room rates, never-before occupancy levels and promise of a whopping Rs 20,000 crore investments by domestic and foreign players to exploit the huge supply-demand gap made 2006 no less than a dream year for the Indian hotel industry.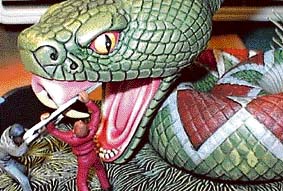 Snakes can detect earthquakes
Nanning, the provincial capital of South China's Guangxi Zhuang Autonomous Region has developed a unique snake based earthquake detection system.
TAX tips
Out-of-court settlement sum is taxable
Q. I occupy a residential house. The area in which residential house is situated has become the centre of commercial activity. The tenancy in respect of the house was taken about 25 years back and the rent of a fairly large sized house having three bedrooms and a large-sized garden is very meagre considering the prevailing rates. The landlord has been asking me to vacate the house but has not so far succeeded even in the courts. He is keen to make an out of court settlement and pay a sum of Rs.20 lakh for vacating the premises. Is the amount so received taxable under the provisions of the Act?
Mysore becomes hot industrial destination
Emerging from the shadow of its cosmopolitan neighbour Bangalore, Mysore, witnessing a flurry of activities on many fronts, is all set to evolve as a brand. The city, hitherto known for its rich history and regal past, is now promising to be the next hot industrial destination not just in Karnataka, but across the country.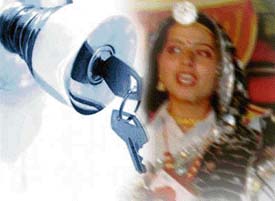 Chivalrous Haryana
Housing Board waives half of transfer fee for women, reports Ruchika M. Khanna
After having granted 33 per cent reservation for women in all its housing schemes (flats and independent houses) last year, the Haryana Housing Board has now decided to waive off 50 per cent of the transfer fee, if the house is transferred in the name of a woman, thereby encouraging participation in property matters.
GROUND realty
Sellers need to be organised
Jagvir Goyal offers a few tips to the builders
Recent realty boom in India had its effect on Chandigarh also. A large number of builders acquired land on the periphery and drew plans to develop large townships in Panchkula, Mohali, Zirakpur, Kharar and other areas. Appearance of full-page advertisements in major newspapers inviting applications for booking of flats has been a common occurrence.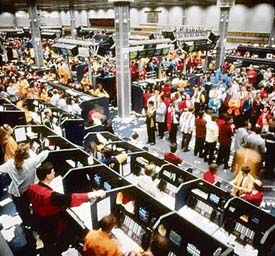 Flexible norms attract Indian realtors to LSE
London has always been a preferred destination for Indians seeking to go abroad, but now, flocking to the financial streets of the British capital are India-focused companies, looking to raise funds.
Haryana swoops on dubious pre-launches
Action by the Department of Town and Country Planning and Haryana Urban Development Authority (HUDA) against dubious pre-launches of colonies and illegal colonisations have contributed substantially in checkmating the appreciating prices of real estate.