COLUMNS



THIS ABOVE ALL

SIGHT AND SOUND

GOOD MOTORING

AUDIO SCAN

MUSIC ZONE

WEBSIDE HUMOUR

FOR CHILDREN



CROSSWORD

RHYME TIME

ROOTS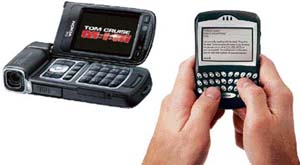 Gung-ho over GADGETS
Hi-tech gizmos spell attitude, style and megabucks for the computer-fed generation, which wants nothing more than tomorrow's technology today, says Srabanti Chakrabarti
Let's begin with a hypothetical situation. Imagine yourself walking down a busy street, 10 years down the line. You come across someone who looks familiar, but can't remember where you met him or her last. Or even the name! Or what the person does.
Musical milestones
Gaurav & Saurabh tune into high and low notes of 2006
January
Arctic Monkeys achieve the fastest-selling debut album in British chart history with Whatever People Say I Am, That's What I'm Not, which sold 360,000 copies. Soul legend Wilson Pickett, the voice behind classics as In the Midnight Hour and Land of 1,000 Dances dies on January 19.
'Elephants are losing their habitat'
India's Elephant Man, Dr Raman Sukumar, talks to Jangveer Singh about his effort to tackle the elephant-human conflict
Vanwasi as his mother called him or the Elephant Man as he is known worldwide, Dr Raman Sukumar, Head, Centre for Ecological Sciences, Indian Institute of Science, Bangalore has done the country proud yet again.