M A I N N E W S
Noida police searches Pandher's city house
Yoginder Gupta & Ramanjit Singh Sidhu
Tribune News Service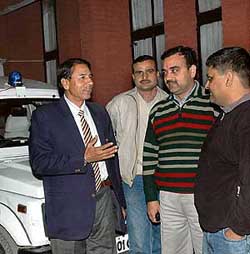 Members of the police team from Noida discuss a point with DSP (East) Prem Singh Malik (left) at the Sector 26 Police Station in Chandigarh on Monday. — Tribune photo: Manoj Mahajan

Chandigarh, January 1
A team of the Noida police today searched the Sector 27 residence here of Moninder Singh Pandher, the alleged serial killer of Nathari village in Noida, and recorded the statements of members of his family.

The Noida police reached the Pandher house around 5 p.m. and remained inside it for about one and a half hours. According to Mr Prem Singh Malik, DSP(East), Chandigarh, nothing incriminating was found by the Noida police, which thoroughly searched the house.

The Noida team, comprising three Sub-Inspectors and two constables, questioned Mrs Devinder Kaur and Mr Karandeep Singh, wife and son of Moninder Singh, at length. The police also recorded the statements of the father-in-law and the mother-in-law of Moninder Singh, as well as the servants employed by the Pandhers. All of them reportedly denied having any knowledge of the "nefarious" activities of Moninder. The family members, the sources say, fully cooperated with the police officials.

A member of the Noida police team told TNS that his other colleagues were interrogating Moninder Singh and his co-accused, Surinder, alias Satish, in Noida. He, however, refused to give details.

The SSPs of Ludhiana and Jagraon, Mr A.S. Rai and Mr R.K. Jaiswal, respectively, told TNS that so far they had not received any communication from the Noida police. The Pandhers have property in these two districts also. Mr Jaiswal said the

Jagraon police, under the jurisdiction of which the Pandhers' native village, Lohatbaddi, falls, had no crime record of Moninder.

The Panchkula SP, Mr Balbir Singh, also said that no communication had been received from the Noida police. The Pandhers reportedly have a farm in that district.

Meanwhile, Moninder's connections with Haryana have surfaced. He not only is married in a Karnal-based family but also spent his childhood in Ambala, where his father, Mr Sampuran Singh, was a rich transporter.

Mr Sampuran Singh's old associates in the Transport Market of Ambala city remember him as a gentle person. They say for Mr Sampuran Singh it was virtually a rags to riches story. He started his career as a cleaner in a transport company. He shifted to Ambala decades ago, where his paternal uncle(Mama), Mr Surjan Singh Dhillon, was a transporter. Gradually, with the help of Mr Dhillon, Mr Sampuran Singh rose to own a large fleet of trucks. He also remained the president of the Ambala Transporters Union for several years.

Mr Sampuran Singh enjoys so much goodwill among his former colleagues that though they were willing to share information about him and Goldie, as Moninder Singh was then known to them, they categorically told TNS that they should not be named in any news report because they had good relations with Mr Sampuran Singh and his family. The alleged involvement of Moninder in the heinous crime came as a shock to them.

The Pandhers had a house on the Spatu road, Amabala city, near Manji Sahib Gurdwara. However, Mr Sampuran Singh had shifted to Sector 27, Chandigarh, before the marriage of Moninder Singh. A person who deals in automobile parts still remembers having attended Goldie's marriage at Karnal and later the reception at their four-kanal Chandigarh house. While Mr Sampuran Singh's family stayed in Chandigarh, he used to frequently visit Ambala to supervise his business. He also owned a petrol station on the Ambala-Chandigarh road. Now this filling station is run by the company itself.

A former friend of Moninder said that he studied in Bishop Cotton School, Shimla. He had reportedly qualified the IAS written examination, but did not appear for the interview because he felt that the salary of an IAS officer was too meagre to attract him.

Meanwhile, Mr Rajinder Chopra, a former constable of the Chandigarh Police, today expressed his suspicion that his 17-year-old son, Jatinder, who had been missing since October, 2000, might have been kidnapped and killed by Moninder Singh.