M A I N N E W S
Fog cripples air traffic
Vibha Sharma
Tribune News Service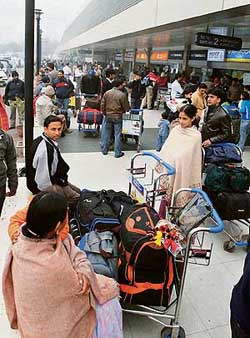 Passengers stranded at the IGI Airport after flights were delayed on Monday due to heavy fog in New Delhi. — PTI

New Delhi, January 1
The first day of the new year saw below normal visibility levels with fog enveloping the cities and severe cold wave sweeping the northern region.

It was yet another fogged out day in northern plains of the country. Yet another day with air, rail and road traffic going haywire and the dense fog reducing visibility levels to as low as 10 metres.

The National Centre for Medium Range Weather Forecasting (NCMRWF) has predicted some more foggy mornings and evenings for the northwest and Indo-Gangetic plains during the next three days, thus implying that Tuesday, Wednesday and Thursday are likely to be as foggy as Monday.

Most parts of Punjab are already reeling under cold wave conditions with night temperatures staying low. In fact, Amritsar recorded the minimum 3ºC, while Ludhiana and Pathankot shivered at 3.2 and 6ºC, respectively. Night temperatures in Punjab, Haryana, Delhi and West Uttar Pradesh, will continue to be two to four degrees below the normal with ground frost condition prevailing over parts of Punjab and north Haryana.

The ground frost in northwest has also resulted in chilly condition in Delhi in the past

few days. Weathermen attribute the dense fog in the Capital to ground frost conditions prevailing over isolated pockets of Punjab, north Haryana and north Rajasthan and say that cold wave conditions and foggy weather will prevail in Delhi for the next two days.

Now if that wasn't bad enough, the NCMRWF has some more weather-related woes in store. It says that the night temperatures are likely to fall by one to two degrees over some parts of the northwest. The silver lining, however, to this otherwise very grim and cold cloud is that night temperatures will rise from January 4. On Friday, the fog is likely to reduce with the sky remaining partly clouded and maximum temperatures hovering around 20 degree and minimum around seven degree.

Now that is all the good news that the NCMRWF has in store for people in the region. Its model predictions suggest that a western disturbance is likely to approach the hilly regions over the northwest around January 4 and 6. Under its influence scattered rain and snow activity will begin in this period over the western Himalayan region -Jammu and Kashmir, Himachal Pradesh and Uttranchal.