Future is green in
PLANT BIOTECHNOLOGY
Sunit Dhawan
Biotechnology, which has universal implications pertaining to various aspects of life, is one of the most exciting sciences of this century. The discovery that DNA, which carries the genetic code for any form of life, can be transferred onto any other form of life opens the door to a multitude of possibilities for genetically modified plants, animals and microbes. Products emanating from modern biotechnology such as genetically modified or transgenic crops offer abundant opportunities to achieve sustainable productivity gains in agriculture.
Course chat
Immense scope in plant BT

Careercature
Sandeep Joshi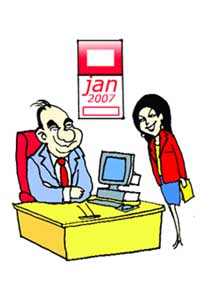 Sir, we have already sent e-cards, e-greetings, e-mails and e-bouquets. What else do you want to be sent to give a personal touch to our clients?
Success is a blend of efforts and imagination
I.M. Soni
The only one who fails in career chase is the one who opts out of the race. The most important secret of success is the attitude of mind. You must think success. Thinking sinks into your mind, plants itself there and it grows. You reap the fruit. When Sir Isaac Newton was asked how he discovered the law of gravitation, he replied, "By always thinking about it."

Australian bank sticks to its decision on outsourcing jobs
Melbourne: Amid raging controversy over outsourcing of jobs, Australia's leading bank, St George's Bank, has said it is sticking to its decision to send 76 computer services jobs to India due to competition. "We are competing in an environment of very strong major bank players. If we don't remain competitive, St George won't exist," bank's chief executive Gail Kelly told its shareholders at its recent annual general meeting in Sydney, according to a report in "Sydney Morning Herald".

Bits & bytes
Record number of women making fortune: Study
London: A record number of women are making multi-million pound fortunes by starting their own businesses, according to a new survey. For the first time, about one in four persons who appear in the annual list of Top 100 Entrepreneurs are women. When the list, published each year by the magazine Management Today, started in 2004, there were 25 per cent fewer women included than today.

TCS science-to-software training programme
Chennai: Global IT services and consulting firm, Tata Consultancy Services, recently launched its science-to-software training programme here. TCS CEO and Managing Director S.Ramadorai said the seven-month intensive programme 'TCS Ignite', aims to transform 500 science graduates, who have been chosen after a four-stage selection process, into global software professionals.

Smart Skills
The jobs to look out for in 2007
Usha Albuquerque
The stock market may go up and down, but the job market is only headed in one direction — and that is up and up. Practically all sectors of industry are upbeat, expanding, and on the prowl for talent. Jobs in all sectors are growing, and along with them are salaries and opportunities. So can 2007 be any different?

Career Hotline
Imagination a prerequisite for make-up artist
Pervin Malhotra