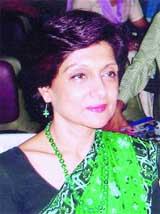 Smart Skills
The jobs to look out for in 2007
Usha Albuquerque

The stock market may go up and down, but the job market is only headed in one direction — and that is up and up. Practically all sectors of industry are upbeat, expanding, and on the prowl for talent. Jobs in all sectors are growing, and along with them are salaries and opportunities. So can 2007 be any different?
The buzz in the shopping malls and markets indicates that the retail industry is slated to be the biggest generator of mass jobs in the coming years. Followed by IT and IT enabled services such as the BPOs and KPOs, telecom services, banking and finance, hospitality and entertainment, healthcare and education are just some of the booming work areas. Management continues to hold sway and is emerging as the backbone of every organisation. The entertainment and fashion industries, as well as the media, are luring talent with attractive job profiles.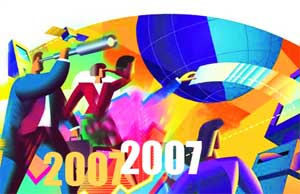 Moreover, the bulk of the action in the coming years will not be confined to the large cities where traditionally the big job market has been, but in smaller cities, where consumers are becoming increasingly affluent.
With the growing middle class and the increasing purchasing power, the retail sector is all ready to boom. As Sunil Mittal of Bharti plans a huge retail empire in partnership with Wal-Mart, many others are following suit. Retail companies like Pantaloons have plans to take on around 7000 personnel in the next two years, Shopper's Stop is looking for 3000 more, while companies like Reliance and Tatas have huge plans to get into this sector too.
According to the CII, the organised retailing in India is expected to touch Rs1,10,000 crore by 2010. With 5000 people required to man a single mall, and 250 malls expected to be set up in the next five years, organised retail in India will provide new jobs to 50,000 with all levels of skills. Companies like the ITC also have plans to include agriculture retail, providing jobs to farm labour, while putting more money in the farmer's pocket and bringing farm products directly to the urban consumer.
In terms of sheer number, the IT and IT services sector continues to be in the lead and will require the largest number of new recruits. An estimated 100,000 new Jobs are expected to be added in 2007, and additionally around 1,25,000 for the BPO and outsourcing services. Plus there will be additional hiring to replace industry attrition that is around 25 per cent. Besides the voice-based IT-enabled jobs and backroom outsourcing, the demand at the top end of the IT industry is also rising. According to Nasscom and Evalueserve by 2010, 300,000 jobs will be created in the KPO space and 70 per cent of these jobs are expected to come to India. This means there will be a need for technical architects, functional ERP professionals, semiconductor and chip design engineers, as well as those qualified in financial research, legal research, bio-informatics, tax processing and insurance work.
Gaming and animation is another huge area being outsourced to India from the USA. So huge, that sensing the potential the Reliance Anil Dhirubhai Ambani Group has set up Zapak Digital Entertainment Ltd a full-service Gaming Entertainment Company handling exclusive game content, both international and Indian. It won't be long before many other companies jump onto this multi-media bandwagon. And not only games on computers, but even on mobile phones with Bharati Airtel and other players getting into the act.
Along with gaming is the increasing demand for quality entertainment. Not only are television channels multiplying, FM radio is back on the scene. Delhi NCR already boasts of nine FM channels, Mumbai has around six, Srinagar has one too, and many more are mushrooming in different parts of the country. Companies like Reliance — always ready for new business opportunities — and the Dainik Jagran group are setting up 17 and 15 FM channels, respectively. Each TV and radio channel requires producers, directors, editors, sound engineers, performers, scriptwriters, RJs, VJs, lighting technicians and so on.
While watching TV and radio don't miss out on the news on the new SEZs that continue to stir up heat and dust, along with real estate prices. This is certainly the scene for the big bucks as property prices soar skyhigh and real estate developers scout around for trained professionals. With the FDI coming into the business, the real estate industry is growing at the rate of 30-40 per cent, and again needs people at all levels.
Another job boom will be in its banking, financial services and insurance (BFSI) sector. And the bulk of the action is likely to happen away from the country's metros, in tier 2 and tier 3 cities. In fact, the trend has already begun and is expected to last for another year or more. Headhunters predict that 150,000 jobs will be created in this area in the private sector alone over the next 12 months. The latest Ma Foi Employment Tracker Survey (METS) reveals that 140,000 new jobs will be created in the BFSI segment in 2007, 18 per cent more than in 2006. Again, much of this is in the smaller cities.
Banks have positioned themselves as one-stop shops selling deposit products, loans, credit cards, debit cards, depository (custody services), investment advice, bill payments and various transactional services, apart from third-party products such as mutual funds and insurance to retail customers. So most of the hiring is at the junior and entry level, for 'foot soldiers' — sales reps to sell mutual funds, personal loans, credit cards, insurance and fixed deposits. Industry estimates suggest that the rate of growth of new job creation in the BFSI space will increase from 10 per cent in 2007-08 to 12 per cent in 2010-11 and further to 15 per cent in 2013-14. The continued growth of this sector and the rising capital markets have also enhanced prospects for those working in the financial services. Fund management is today among the hottest professions these days.
Another sector feeling the pinch of available manpower is the hospitality and aviation industry. Hotels of all kinds immediately need almost 15,000 trained professionals. With the huge growth in domestic tourism and the steady inflow of around 3 million international tourists leading up to the Commonwealth Games in 2010, there is a demand for qualified chefs, F&B and housekeeping managers, as well as airline flying and cabin crew. With so many companies starting new airlines, it is also probably the best time to take wing and fly!So many opportunities, but one thorn in this rosy picture — the dearth of skilled manpower with a strong knowledge base.
According to McKinsey, apart from Mumbai, Delhi and Bangalore, the quality of graduates applying for jobs in all sectors of industry needs to improve. India produces over 100,000 graduates every year, but the majority are unemployable. Education, another area where the jobs are in demand, requires teachers and educators for schools, colleges and professional institutes to provide the skills that can make the new jobs worthwhile.
So 2007 can mean a good year for those willing and able to cash in on the huge opportunities in the Indian job market.
The writer is a
noted career expert